These far from obvious anthologies are, in their variety and rarity, a tribute to the sensibility of the compiler and, in the sensitivity of performance, a tribute to the artists. Familiar and unfamiliar are nicely mixed with a strong presence of the unusual. The performances are breezy, responsive and generally lively. As for any passing thoughts about French music played by Bohemians, well, there is nothing new about that. Remember the much-acclaimed and spot-on Supraphon recordings by Serge Baudo and Gaetano Delogu/Czech PO recordings (Roussel, Debussy and Ravel). Heaven help us if we can only accept music played by the composer's countrymen - a recipe for good music never travelling!
Douglas Bostock the young conductor and Boult pupil who presides over this series introduces the series:-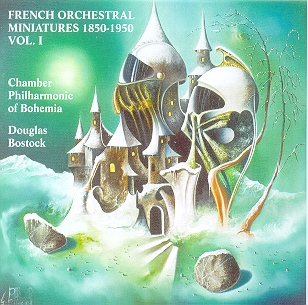 So let us go to Volume 1:-
DELIBES Le Roi s'Amuse (1882) - For a work of this vintage the atmosphere is often alarmingly similar to Warlock and his Capriol Suite. In fact antiquity and baroque dance music is a common theme among the works select by Bostock and ClassicO. The atmosphere of the Tordion and Bransles and of Moeran's Serenade comes across strongly. There are also cross-references to Elgar's Mina and Sibelius's theatre music.
LALO Divertissement (1872) - A colourful piece rather similar to Massenet music for El Cid and Lalo's own ballet Namouna. There is a Tchaikovskian brightness about the writing without the Russian composer's gloom or it must be said his emotional brilliance.
FRANCK Suite - This is a collection of organ pieces orchestrated in Elgarian dark pastels by Henri Busser, the man who orchestrated Debussy's Printemps. Once again the classical and archaic worlds are evoked. This is amusement music which is quite surprising in its lightness and nobilmente tone. There is a touch also of Saint-Saens and Dvorák.
CHABRIER Habanera (1885). Cuban evenings are wonderfully conveyed by this Havana portrait which inhabits an evening world not far removed from Saint-Saens' own silkily poetic Havanaise for violin and orchestra.
BIZET Overture Docteur Miracle (1857). The 19 year old Bizet wrote this operetta with Charles Lecocq who wrote Les Cloches de Corneville. The music initially has a sternly flexible Beethovenian backbone but soon lightly zips along like Rossini's Gazza Ladra. A very striking concert piece which could easily replace Nozze di Figaro as a brief concert opener.
SAINT-SAENS Suite for orchestra (1877). Once more we are served up a series of Baroque pastiche dances. Listening to this music you begin to see the lineage of similar suites by Fauré, Ravel and Debussy. There is perhaps a touch of Grieg here as well. This is lightish music of a type which graced Bournemouth's and Harrogate's halls and band stands in the 1890s and 1900s.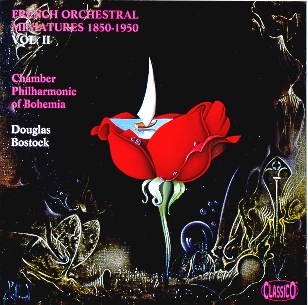 Vol. 2
FAURÉ Masques et Bergamasques (1919) - The best known of the four works on this disc with a lightly dancing Mendelssohnian charm not a thousand miles from A Midsummer Night's Dream. The mixture bubbles lightly and affably in the manner of Wirén's Serenade for Strings. Surprisingly there are even little echoes of Beethoven 5. 'Bergamasques' is, by the way, a reference to songs and dances from Bergamo. There is a brisk Gavotte and the sequence ends in a relaxed and cool, dignified and poised pastorale, which is the longest movement of the three.
VINCENT D'INDY Karadec Suite (1890) - The Prélude is rather dull at first although it soon warms up to a central nightmare ride with touches of Berlioz phantasmal witch-world. It is in three movements, the last of which made a great impact at the premiere of the play to which this music provides incidental accompaniment. The concluding Noce Bretonne blends Wagnerian and fashionably exotic Moorish influences.
PIERNÉ Trois Pièces pour orchestre (1883). This evokes memories of lively Tchaikoskian ballet music and has a sprightly elegance. Both Fauré and Sibelius come to mind quite often especially their theatre music. This is the strongest music on the disc and will repay the attention of anyone who warms to Tchaikovsky's suites and ballet music.
JOSEPH GUY ROPARTZ Croquis d'Eté. This has three movements. The first, En Barque, in which the strings seem greatly at ease, reminds me of the rocking motion of the sea. This is very much redolent of a canzonetta among the islands of the Golfe du Morbihan. The central sentimental dance is a hesitant waltz. The carefree and unclouded rondo rounds things off with elements of Marche Militaire and certainly has its mock warlike moments (2:24).
SATIE (orch POULENC) Deux Préludes Posthumes et Une Gnossienne (1939). This obviously moves on many years in complexity of harmonic language wandering the haunted edge between reality and the surreal.
DEBUSSY (orch RAVEL) Sarabande et Danse. There are no notes on these pieces. The first suggests a red and mysterious sunset. Ravel's hand is clear enough in so many orchestral touches. The Sarabande rises to a piercingly passionate climax etched across the sky by the strings. This is a very impressive piece in its dark restraint. The brilliant Danse is full of smilingly appealing and totally unpompous jollity. The cheerful theme is wonderfully 'skylined' by the French horns. Perfectly done.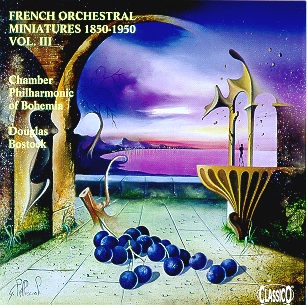 Vol. 3
AURIC Le Peintre et Son Modèle (1948) ballet suite This is music which might have been written to accompany the silent film masterpiece Metropolis. It is in seven movements. The first is martellato and apocalyptic. 2 is more abrasive and percussive. 3 is a slily sliding and trembling waltz. 4 offers music which in its presentiments of menace envisions of a dark and dank dungeon with dripping walls. The fifth movement comprises is subtle and while celebratory is not at all the boozy knees up which might be guessed at by those who know Auric's music for the Ealing comedies (see Silva Screen CD). Then last two movements might well be intended to picture an off-key village band: anarchic jog-trot sketches which mix the straight faced and the slightly macabre.
JACQUES IBERT Felicie Nanteuil. This piece, which leans somewhat on Massenet and Delibes, is at first awash in grand romance but collapses into an oompah waltz potted palms and all. If we did not know better this could be taken as an evocation of Paris, Monte Carlo or any continental city. There is a hint of old Vienna as well at 7:30. The piece was written for a friend of the same name though it also celebrates the town of Nanteuil. It was written originally for piano and then orchestrated by Félix Chardin. In the finally ruthless analysis it is a bit pedestrian but it has its moments especially in the first two minutes. It is good to have it and the orchestra seem to engage enthusiastically with Ibert's spirit.
ALBERT ROUSSEL Petite Suite (1930). The notes offer a comparison with Nielsen which is both surprising and apposite. There is a certain Danish tartness in the music as well as jungle-sounds (suggestive of Le Douanier). These were, no doubt, absorbed during his long sea voyages which also gave birth to his two masterworks: the opera-ballet 'Padmavati' and his choral-orchestral 'Les Evocations'. The middle movement is classically poised and, rather like Nielsen and Van Dieren, immersed in a darkly wandering dreaminess. The mood is well-conveyed by the Bohemian players and Mr Bostock. Next comes a hectoring Mascarade to close the suite. This is fairly severe and drily jazzy in the manner of Kurt Weill's two symphonies. The piece is not that common and is to be distinguished from the Op. 33 suite which has had several recordings.
RAVEL Pavane pour une Infante Défunte. This was a surprise of a performance. Here is a very well paced Pavane with every accent and breath confirming Ravel's greatness. The Pavane was written as a solo piano piece evocative of Fauré's music. It was eleven years after writing it that he orchestrated the piece. The pliable, poetically responsive performance is well under the French psyche and skin and is done with a subtle polish and sincere feeling. Bostock is not afraid to allow the music to expand in a grand and stately sorrowing passion.
POULENC Pièce Brève sur le nom d'Albert Roussel. This has a grand Stravinskian neo-classical air but soon settles into splendid romance. Shostakovich and Nielsen also put in an appearance. The Piece was originally written as piano piece for Roussel 60th birthday.
POULENC - Ouverture (orch MILHAUD). This has a dashing Respighian brilliance but, as ever with Poulenc, there is heart and lyricism as befits a composer of mélodies. Surprising island voices are also heard. One of these is the British composer, Moeran, whose confident out-door clashing harmonies are a strong feature of the piece. In this it is similar to Kodaly's Symphony.
MILHAUD - Trois Rag Caprices (1922) Here again this work was written originally for solo piano then orchestrated, this time by the composer. It dates from the year before Milhaud wrote La Creation du Monde and is of a piece in spirit with the 1920s 'Jazz Age' works of Lord Berners and especially Constant Lambert. I can imagine how Lambert would have loved conducting this piece. The first of the trio is a stertorously stalking march. The second sounds decidedly Baxian and not a little like the music of Frank Bridge from There is A Willow Grows Aslant a Brook. The final 'précis et nerveux' is full of jerky febrile energy in Stravinskian neo-classical gear.
CHARLES KOECHLIN - Chorale sur le nom de Fauré (1919). This was written in the wake of the Great War and how much it sounds like William Schuman of all people. The French influence on American composers via Boulanger was strongly pervasive. It is claimed by the notes to be greeting for his revered teacher's 75th birthday in 1920. I however hear more of a lament for those fallen in the Great War.
All 3 volumes are decorated with surreal Dali-esque paintings by the Antibes-based artist, Giovanni Pelliciolli.
The recording is very natural and does not sound over-brightly lit. There is little glare and the acoustic sounds is natural and not at all garish.
All three of these volumes could easily have taken another piece or two to take them up to or approaching seventy minutes. That said the repertoire and the engaged and often engaging performances conquer this 'grocer's' criticism.
The last disc is more seriously inclined but the first two have a high quotient of music similar to the light music produced by various British composers in the period 1910-60.
The useful notes (English only, surprisingly) for all three discs in the French series are contributed by Mogens Wenzel Andreason.
Recommended warmly then. If you can only stretch to one then go for Vol. 3 in view of its unusually tart mixture and a remarkably poised as well as insistently passionate performance of Ravel's Pavane.
Reviewer
Rob Barnett
Olufsen Records, Skt Knuds Vej 8, DK-1903 DENMARK Frb C Fax +45 31 311497
In the UK these discs are distributed by DI Music
This series echoes and pathfinds for the much more ambitious series of ten CDs which will make up ClassicO and Douglas Bostock's British Symphonic Collection. This was launched with remarkably little attention by a CD of Gordon Jacob's Second Symphony. Very soon the second and third discs will be issued: Vaughan Williams' Job and other pieces including one never previously recorded and most significantly Bax's Sixth Symphony coupled with the ever-popular symphonic poem Tintagel and the recording premiere of Bax's swashbuckling 'Overture to Adventure'. The orchestra for the series is the Munich Symphony orchestra. They will be in the studio in December 1998 recording Arthur Butterworth's Symphony No 1, epically Sibelian and a fine work and the hardly less impressive second symphony by Ruth Gipps - a work which has some touches of the RVW style but speaks with a directly original English lyric voice. We hope to review all of these on this site.