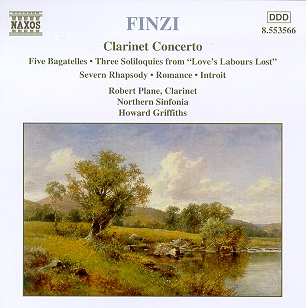 I must confess that I was a little concerned about Griffiths' rather dour opening to Finzi's Clarinet Concerto and I felt the ensemble and intonation was a little insecure but I need not have worried for the music soon bloomed and I relaxed to enjoy what I feel is one of the best recordings of British Music that has come my way for many months. Griffiths's introductory pages are strong indeed, but they only serve to show up the contrasting lyricism when the clarinet enters on an introspective note reminiscing wistfully and warming the temperature of the proceeding orchestral accompaniment. The first movement is often Elgarian in style. It alternates between strident, sometimes abrasive material and the more tenderly romantic delivered in Finzi's own inimitable fashion. There is a strong feeling of the English countryside as in so many of this composer's works.
The second, Adagio, movement opens in almost mystical meditation by muted high strings that prepare the way for the soloist, seemingly anguishing over some private grief. Then lower, and divided strings usher in the movement's modal principal theme haltingly sad at first but then broadening out and becoming increasingly haunting - in very Elgarian melancholic nobilmente mood - with the clarinet wondering mournfully around it. The soloist rhapsodises on this material and the music meanders quietly, occasionally passionately, towards a dramatic dynamic climax in which turbulent divided strings are preponderant. The movement sighs sadly to its close.
In contrast the rondo final movement is carefree and cheerful. It trips along to one of Finzi's most light-hearted and most attractive melodies. Material from the preceding movements is recalled.
Robert Plane delivers an essentially warm and lyrical performance with clean, relaxed phrasing and pacing. He is very ably supported by the Northern Sinfonia very much attuned to his deliberations and to the atmosphere of this lovely concerto - as they are to all of these works.
A bagatelle is a musical trifle; a short unpretentious instrumental composition. Finzi's Five Bagatelles for clarinet and strings are most attractive little pieces. The First, Prelude is a sunny joyful outdoor piece (and it, and the other works on this album, enjoy a bright recording in an acoustic with just the right amount of reverberation). It trips along daintily and I had a mental picture of an eighteenth century coach, carrying a splendidly-attired lady, trotting through the parkland of a large country estate. The Second, most extended piece, is Romance. It is Elgarian nostalgia revisited; this time I imagined lying on a summer sunlit hill gazing up at high passing clouds and daydreaming of someone special. "Carol" is a charming tune of childlike innocence, Forlana has a beguiling gentle lilt but is not necessarily in step with the original dance. The final Fughetta is another Finzi delight, sunny and mischievous. Plane and Griffiths clearly love these little gems and we are treated to radiant performances.
The Three Soliloquies are very short but very sweet. The album notes include their texts to add to our enjoyment. The enchanting first soliloquy, The King's Poem is coy and wistfully sad. It is a great favourite of mine; I think it is one of the most beautiful melodies in all British Music. It is played here by the Northern Sinfonia with great delicacy and their playing rivals the Boult version on Lyrita. The second Longaville's Sonnet is in very much the same mood while the third soliloquy, Dumaine's Poem has a faster tempo but is equally gentle although strongly melodic. The Severn Rhapsody is strongly influenced by Vaughan Williams and to a lesser extent, George Butterworth. Derivative it may be, but it is nonetheless a very pleasant and moving evocation of the English countryside and of the River Severn meandering through it.
Romance just makes me curl up in bliss. I cannot think of a better antidote to stress than this lovely work. In fact I once successfully prescribed it to an occupational therapist friend for her stressed patients! Its limpid beauty is pointed up most sympathetically by Griffiths. Its vibrant middle section is as though summer breezes are rustling through Elgar's riverside reeds. I
Introit was the slow movement of Finzi's Violin Concerto. It inhabits very much the same musical world of Romance. It is gentle, warm and tender, very feminine music; maternal even. And maternal in the natural, mother nature sense too. The violin soars aloft singing on high a song of infinite compassion and understanding.
In short, this is a fabulous collection recommended unreservedly.
Reviewer
Ian Lace

Performance

Sound