It was sheer chance that, browsing in a York book-shop, I came across a volume of songs by John Jeffreys (born 1927) of whom at that time I knew nothing. Greatly intrigued by the beautiful calligraphy, and what seemed to me to be music of quite individual character, I discovered, on playing the songs over at home, that my instinct had been right - and that here was music of great beauty. My delight increased when I purchased a second and third volume issued by Roberton publications - and now Meridian have produced two CDs of this neglected composer's music from between 1951 and 1986. It is almost unbelievable to read in the sleeve-notes that in the 1980s works destroyed by the composer include a Symphony, two Violin Concertos, a Cello Concerto, a String Quartet, a Piano Sonata, some eighty-six songs and a handful of orchestral works. On the evidence of these CDs one must sadly look for a reason for this drastic action other than self-criticism. Few composers today write music which is, by normal standards, beautiful - the word has somehow acquired a pejorative meaning - but this beautiful music belongs squarely (despite the composer's date of birth) to that period in British music in the early 20th century before music lost its way in "a flux of indistinguishable feature" - Charles Kennedy Scott's words, not mine! and crucified beauty on the altar of novelty for novelty's sake. I am reminded of Medtner's comment "what is modernism? The fashion for fashion!" Martin Renshaw (also the singer on the instrumental rec-ord), suggests a more sinister reason for this neglect - but however horrified by that thought one can only now be grateful for the champi-onship of Kenneth Roberton and Meridian Records. For this is music to delight!
John Jeffreys
Jeffreys, of a musical family of Welsh extraction, studied at Trinity College - significantly counterpoint and musical philosophy. He came to music as a chorister in his father's Congregational Church, assimilating early the music and poetry of the Elizabethans - especially the lutenists Campion and Rossetter (on whom he is an authority), and later Tallis. In studying piano he was influenced by Clementi and Scarlatti, and later by Grieg and Grainger. Unusually, but significantly, in these formative years he encountered no German influence. This early training resulted in a rich sense of both melody and harmony: and it was inevitable that he should write music for voice. His sensitivity to the poetic image had led him to the Elizabethan poets, to Shakespeare - and, which few com-posers other than Howells, Gurney and Warlock have done, to the Georgian poets especially Wilfrid Wilson Gibson, with whom he has an especial affinity.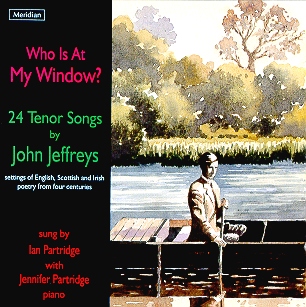 The first disc consists of 24 songs sung by the tenor Ian Partridge, accompanied by his sister Jennifer. Apart from Mistress Mine there are six settings of 16th/17th century poets and ten settings of Georgian, including six of Gibson. The published volumes include 100 songs (of which ten are Shakespeare, thirty-eight of anonymous Elizabethan poets and around thirty of the Georgians). The present disc however has a representative selection. The predominating influences are easy to detect - the influence of the Elizabethans through the filter of Warlock Delius and Moeran. Yet this music has a distinctive and recognisable quality - something quite individual - his Ha'nacker Mill (Belloc), Black Stitchel (Gibson) and Severn Meadows (Gurney) are quite different from those of Gurney, probing even more deeply into the darker implications of the poem. Yet each song has an individual beauty. Northumberland (Gibson) ought to be as popular as Sea Fever or Go not Happy Day.
Settings of such familiar words as That ever I saw and Yet I will love her have a freshness that is most appealing. At the other extreme The Poacher's Dog (a dialect poem of Louis Mayerling which Jeffreys has condensed with the poet's permission) is a song of most affecting poignancy. The singing throughout is very sympathetic - especially in moments where the solo voice, bereft of accompaniment, expresses clearly the deeply felt emotion of the poet and musician.
If one has a criticism of these songs it is that the great majority of them are in a slow tempo - contemplative - deeply influenced by Nature (One recalls W.H. Davies' "What is this life if full of care/we have no time to stand and stare.") It is not therefore easy to accumulate a selection of songs yet retain a measure of contrast - and here only the folk-like Jillian of Berry, The Little Pretty Nightingale and My Little Pretty One provide a foil for the impassioned flow of the music.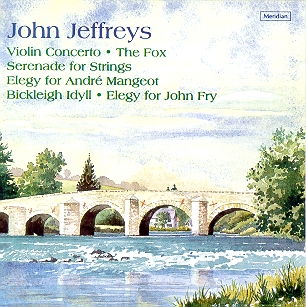 The instrumental disc contains six compositions beginning with the three-movement Violin Concerto, written in 1951 for his wife Pauline. The work openly avows its nostalgic origins in the lovely Devonshire valley of the river Exe at Bickleigh, the subject of the fresh watercolour by Charles Walker on the sleeve. Again the music is contemplative, with its evocative portrayal of the water's steady flow. Brief dance-like episodes suggest some country revelry, but the prevailing mood is one of quiet serenity. It has all the freshness of a summer morning and, in contrast, all the melancholy of a summer's eve. This same serenity permeates the 1959 Serenade for Strings (written for André Mangeot, for whom the 1984 Elegy, a sad echo based on the second theme of the Serenade, was also written.)
The two remaining works for strings - Bickleigh Idyll - which, as the title indicates, pursues, the imagery of the Concerto - and Elegy for John Fry the violinist whose sudden untimely death inspired the work and a sense of anger at the loss - are also of an agonised beauty. The song-cycle The Fox to words by Barry Duane Hill (another poet with whom Jeffreys has an affinity) is elegiac in nature. There is a Yeatsian grandeur about this deeply-felt music - both poet and composer in perfect accord, their sympathies with the hunted - from the opening shimmering chords of dawn, through the lambent sunlight of noon, to the dreaming night. This, written spontaneously by poet and composer together in anger, is music of poignant beauty.
The warmth and commitment that the instrumentalists and singer give to this music is immediately apparent in the opening long-breathed solo line of Lawrence Jackson's violin, and is shared by the French members of the Orchestre Philharmonique, to whom the composer himself pays tribute, acknowledging also his indebtedness to the late André Mangeot, who broadcast the Violin Concerto in France in July 1953.
This music will I think be new to very many listeners - and both discs are a 'must' for all lovers of British music.
Reviewer
Colin Scott-Sutherland
Note: Colin has written a study of John Jeffreys' settings of W.W. Gibson. Enquiries to CS-S, Davaar Lodge, Anstruther Rd, Crail KY10 3RJ
Reviewer
Colin Scott-Sutherland