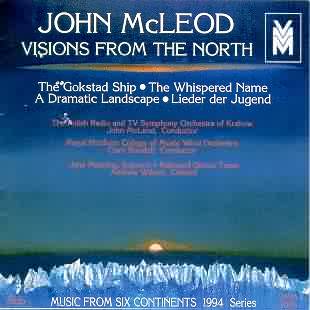 In the last decade I have only been impressed by four 'modern' orchestral scores namely John Casken's Orion Over Farne, John Buckley's Taller Than Roman Spears, Robert Crawford's Lunula and John McLeod's The Gokstad Ship the first item on this highly recommended disc. It was composed for the National Youth Orchestra of Scotland premièred in Kirkwall, Orkney Islands on 30 July 1982 (Evelyn Glennie was in the orchestra). The piece is inspired by the Vikings and their mode of transport.
Few orchestral scores are as vivid as this. We are in the ancient world with its savagery and culture. We have fanfares, a dirge and a regal burial in a vivid orchestral score of stunning power and mystery.
The Whispered Name is a set of five songs for soprano, string orchestra and harp with Jane Manning as the singer and how wonderfully she performs these very moving songs, all written by women. McLeod captures a telling beauty and poignancy. This is a faultless score and a performance of outstanding depth.
Andrew Wilson is the excellent soloist in A Dramatic Landscape. This is a well-balanced concertante work inspired by a painting by Paul Klee and from views of various landscapes seen from aeroplanes in which much of its composition took place. One can detect shifting clouds and the chorales suggest the closeness of Deity.
It is not just Mahler that has set texts from Das Knaben Wunderhorn. McLeod sets four as a symphonic song cycle Lieder der Jugend which won the Guinness Prize in 1979. There is a telling dignity in these settings and a perfect aura of nostalgia but, I hasten to add, there is no pomposity or wallowing sentimentality. The first song is of a young soldier bidding farewell to his girlfriend as he leaves for war but they both know that he is unlikely to return. The second song is of a young man trying to discover what is wrong with him. Next, comes a song about a child dying of hunger and waiting for bread. In the last song, a young drummer is awaiting execution and, as the soldier in the first song, is bidding farewell to the world. The song ends, "Gute nacht! Gute nacht!"
While certainly not wishing to criticise Mahler's settings I have to say McLeod is more direct and refined. The soloist, the tenor Raimund Gilvan is very good indeed.
John McLeod, having been born in 1934, is now 64. He is an outstanding composer and this disc should be made widely known. It will make many friends.
Recommended without reservation.
Reviewer
David Wright
Performances

Recording

VMM is Vienna Modern Masters,
Margaretenstrasse 125/15,
A-1050 Vienna.