Klaus Heymann auf Naxos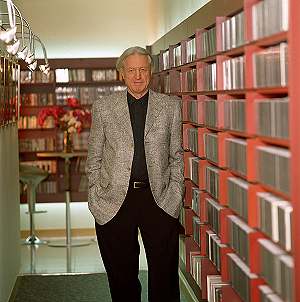 Klaus Heymann is a late bloomer. At the age of fifty his career took a sharp turn. At first it was nothing more than an experimental diversion but when the Naxos CD industry took off, it became a serious attempt to stay one step ahead of the bigger, more cashed-up recording companies.
I meet Heymann at the headquarters of Naxos's Australian distributor in Sydney's northern suburbs. He is not the stereotype of the high-powered executive who in little less than two decades has turned the recording industry on its head. I expected a dragon and I'm amazed he hasn't sent a representative to answer my questions. In fact he insists I ask any question I like. So I ask him how old he is. "Sixty-eight!"
Slim, tall (at a guess 180 cms or 6 feet) with a mass of flowing grey hair that threatens to cover his face when animated, he has an eye that looks into the distance only when he's thinking aloud; the rest of the time it's eye-ball to eye-ball. Dressed in a black shirt, matching trousers and a grey houndstooth check jacket he looks like a fifty year-old version of Boris Becker. And like Becker, he loves tennis. In fact his first real job was as a tennis coach at Frankfurt University where he graduated before embarking on a sales career with an American newspaper, The Overseas Weekly. Following a short interval working for audio-equipment giant Max Braun, he returned to the newspaper business as the Hong Kong representative of his original employer.
The year was 1967. Twenty years later, Heymann started his own company. "It's so much easier to start your own business in Hong Kong," he says. "They practically encourage it." He used to distribute cameras, watches and audio equipment. This led to the sole distributorship of the Bose, Revox and Studer audio equipment. As a sideline he began to organise classical music concerts.
Creating the Naxos CD label "was a very simple business idea", he recalls. "At the time CD prices were very expensive compared to the prices of LPs and cassettes. In terms of today's exchange rates an LP cost US$5 and CDs retailed at US$20. People simply didn't have the money. Initially I started by licensing thirty masters from a production company in Munich but then I found the masters were being licensed to other companies as well so after some thought I decided to either lay it to rest or start producing them myself."
He decided to go into production. Not having the money to finance big orchestras, "they wouldn't have recorded for us anyway", he went to Czechoslovakia and Hungary where he had connections and soon the first Naxos recordings - Smetana's Die Moldau and Other Czech Favorites and three Beethoven Sonatas – were cut. More popular classics followed, what Heymann terms 'the golden oldies'. The Naxos name came from the title of a shelf company he had used to buy an apartment in Hong Kong.
From those humble beginnings the Naxos empire has grown to the current 3200 releases. "It should reach close to 3300 recordings by the end of 2006," says Heymann. In addition, in 19 years Naxos has received more than 500 Penguin Guide 3-star ratings and over 100 Editor's choice awards from The Gramophone magazine.
But how can Naxos remain viable especially when utilising the same orchestras and artists as their competition? "The answer is simple. Our consumer-friendly price and wide distribution allows us to spread recording costs across 10,000 to 15,000 copies."
Currently Naxos has 15% of the market share in the United Kingdom, roughly 35 to 40% in Scandinavia, 20% in Spain and Germany and (according to Soundscan) is the leading independent classical music label in the United States.
The label encompasses not only classical music but jazz, light classics, musicals, the spoken word and poetry. Lately the internet has been used to stream a host of titles. They currently operate four different streaming services and are about to launch a dedicated classical music download service, www.classicsonline.com. A free trial period is on offer.
But it has not always been a case of champagne and canapés. The odd glitch has occurred. The jazz label for example (alas under our own Mike Nock) has failed to make an impression on the US market.
The operatic section is still very viable, however, and Naxos releases one opera almost every month with most being re-issues of vinyl favourites. In charge of the restoration is Mark Obert-Thorn. Heymann says he is "one of the best in the business….. a musician primarily, not just a technician …… and that is why his sound is a lot better than the original masters."
The challenges in restoring old LPs, and in some cases 78s, are enormous. For example, talking about the hurdles encountered when re-mastering Bellini's I Puritani, (the first recorded collaboration between Callas, La Scala and EMI) Obert-Thorn reveals the opera was recorded not at La Scala but in a large church where the echo often played havoc with musical detail. "There are some odd balances with some singers recorded too closely and some too far away …… Previous CD transfers attempted to remove session noises at the end of some tracks by fading down the ends of arias, adding reverberation and then leaving digital silence before resuming the music – a solution that seemed to be worse than the problem." Pitch variations caused by sections recorded at different times were also present.
Obert-Thorn concludes: "I used the best portions drawn from 8 LP copies. Most of the electronic clicks that remained, even on the CD editions, have been removed, and care has been taken to adjust for the pitch differences between and within each track."

Randolph Magri-Overend
[This article was originally written for Sydney's Fine Music magazine in early 2005. However all dates and figures have been revised and are correct as of the time of writing.]