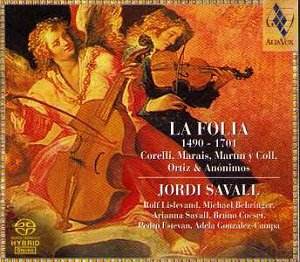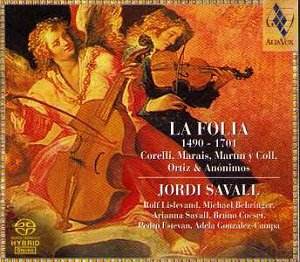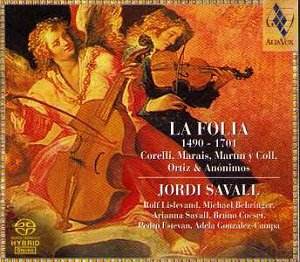 La Folia 1490-1701
ANONYME Folia: Rodrigo Martinez, 1490; Improvisations díaprès le villancico du CMP
Diego ORTIZ (1510 - 1570) Recercada Quarta sobre la Folia, 1553
Antonio de CABEZÓN Folia: Para quien crié cabellos, 1557; Díaprès Venegas de Henestrosa; Recercada Ottava sobre la Folia, 1553
Juan del ENZINA (1468- c.1530) Folia: Hoy comamos y bebamos, vers 1520; Improvisations díaprès le villancico de Juan del Enzina
Antonio Martìn y Coll Madrid Bibl. Nacional (1706-1709) Díaprès le Mss. Flores de Músia,1357-60
Arcangelo CORELLI (1653-1713) Op. 5 Roma 1700 MS. VM7 6308 Paris Bibl. Nationale
Marin MARAIS Second Livre de Pièces de Viole, Paris 1701


Jordi Savall, violes de gambe
Rolf Lislevand, vihuela, guitare et théorbe
Michael Behringer, clavecin, organo di legno et claviorganum
Arianna Savall, harpe triple
Bruno Cocset, basse de violon
Pedro Estevan, percussionAdela Gonzalez-Campa, castagnettes et grelots (cascabeles)
"Hybrid Stereo" - playable on a CD player and an SACD player but only stereo in both formats
Rec. 7-8 Sept 1998, Tibor Varga Studio, Switzerland and St Hippolyte à Castres, France.


ALIA VOX SACD AVSA 9805 [54:50]