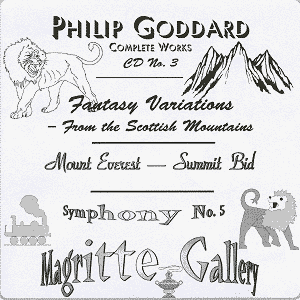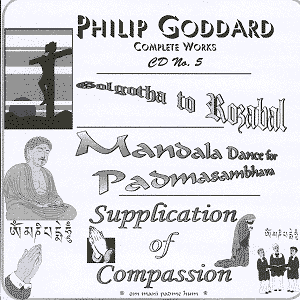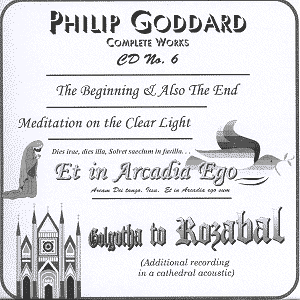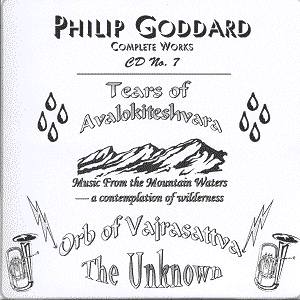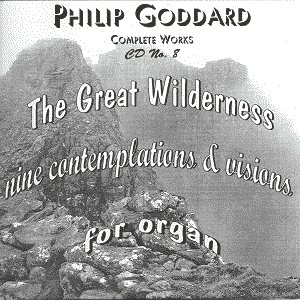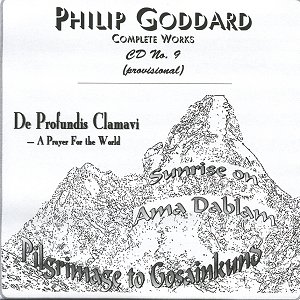 Philip GODDARD (b. 1942)
Fantasy Variations – From the Scottish Highlands
Mount Everest – Summit Bid
Symphony No 5 (Magritte Gallery)
PGC 3 [71.06]
Golgotha to Rozabal – symphonic poem
Mandala Dance for Padmasambhava
Supplication of Compassion
PGC 5 [59.38]
The Beginning and also the End – choral song
Et in Arcadia Ego
Meditation on the Clear Light
Golgotha to Rozabal – symphonic poem
PGC 6 [63.49]
Tears of Avalokiteshvara
Music from the Mountain waters
Orb of Vajrasattva
The Unknown
PGC 7 [57.08]
The Great Wilderness
PGC 8 [79.07]
Sunrise on Ama Dablam
Pilgrimage to Gosainkund
De Profundis Clamavi (A Prayer for the World)
PGC 9 [34.07]


Members of the Invisible Philharmonic Orchestra
Invisible Choir
Conducted by the composer via a PC
i.e. all works recorded via a MIDI sequencer program

Philip Goddard was born in 1942. He has issued at least 9 CDs of his own music (I have listened to six of them) and all are in the form of computer realizations using a MIDI sequencer program (hence the picturesque names chosen above for his orchestral forces).

His musical medium is broadly modal and reflective in character. Washes of sound are studded with bell clusters, there are short melodic motifs, disparities of voicings (both Russian deep and ecstatically high) and occasionally a little rhythmic figure will shunt the music onwards – listen to the Tears of Avalokiteshvara, a symphonic poem, for this trait. His use of the organ is pervasive and its use – see the Supplication of Compassion – is often in conjunction with layered voicings, drum tattoos and high tolling bells. Some of these expressive devices might bring to mind Arvo Pärt, especially in Sunrise on Ama Dablam, where the Estonian composer is explicitly evoked. Elsewhere the influence of Rachmaninov's Vespers, in their dramatic impulse as well as their spiritual ethos, is undeniable. But Goddard's music sounds like neither composer and I was interested in the ecstatic drive of Sunrise, the plentiful incident and the striving and strain of Golgotha to Rozabal (which exists in two versions here, one in an enhanced cathedral acoustic) and also the pitch study, voice chanting and rhythmic patterns of Pilgrimage to Gosainkund which leads to a "cluster ascent" and chant of affirmation. Also the dramatic flair of the choral song The Beginning and Also the End with its drum tattoos and high lying flute writing.

Given that this is essentially music of spiritual contemplation Goddard seldom exhibits the stasis of, say, John Tavener but on the contrary is busy and active, though seldom ideally cogent. The MIDI realizations cannot be expected to replicate his orchestral sonorities but stand in for them with a fidelity that clearly pleases the composer.

Jonathan Woolf

NOTE FROM PHILIP GODDARD

Details of availability and ordering of these CDs can be had direct from Philip Goddard at:-

http://www.neptunethemystic.co.uk/goddard.htm

I've installed an online payment facility through PayPal for purchase of my CDs. The price there is $15 each (PayPal not giving any alternative currency options), and the shipping / handling charge is set at $5 for the first CD and $1.50 per additional CD in the order.

As you surmise, there is a lot of quite detailed info on the background of my music and indeed myself on my website. Look particularly at 'about the music' and 'about the composer' (with more general info about me and my life story accessible from my main home page), and of course there are also the individual programme notes for each work, which are all there.
The question of influences on my music is an area of pitfalls. People hear what they feel to be an echo of one composer or another and immediately label that as an 'influence', and in some cases disparage the music because they can hear what they've labelled as influences, which, they imply, means weaknesses in my work. That's a display of their own ignorance because they were not really listening to my music!
For most of my life - up to 1995 - my music was in my head only (apart from a few crude simple pieces laboriously written on paper in about 1978-80, and it developed in its own ways. There is certainly strong overlap with the idioms of various composers. Vaughan Williams very much - especially in his more adventurous, less folksy mode, late Sibelius (especially Tapiola), Holst (Planets & Egdon Heath), later Nielsen, Messiaen, Holmboe, Tubin, Martinu... But definitely NOT Bax or Delius, except in that there are some shared resonances with other composers such as Vaughan Williams. Because Vaughan Williams' music came to me early in my life, probably that did have a formative effect upon me, whereas, say, Hovhaness came to me much later and, while certainly there is some overlap there is little possibility of much influence, in that my idiom was already well formed.
But that's not the whole story. Usually when I first heard music of composers with whom I had a considerable overlap in idiom, the effect was not so much of what we usually mean by 'influence', as of *recognition*. When I discovered the music of Jehan Alain, for example, I was amazed. This was 'my' music - music that I could have composed myself! In this particular case there is possibly a very special reason for this, as for my great empathy with the organ with the sorts of registration employed by Alain and Messiaen - and it has to do with who I may have been in my previous lifetime. I'll not elaborate further on that at the moment as more corroborating evidence would be required before I'd say publicly what I currently suspect.
Continuing on the matter of influences. In an important sense I've been influenced by all music that I've heard - and that would be a list of composers longer than right arm and left leg put together. :-) But much of the influence has been in the sense of recognising roads I didn't want to go down (including Bax & Delius, who in my perception are pretty weak composers), or getting reassuring reinforcement for the use of particular modal and harmonic colours and compositional methods which were already part of my idiom.
As to the quality of my MIDI realizations, I took a great deal more trouble, both in customizing sound samples and in putting masses of expression controller messages into the MIDI files, than most composers do, because I had no idea whether such an unknown, self taught composer as myself would ever get any performances. So, I reckoned that I wanted to produce the next best thing. Actually, I now have much better and more lifelike string section sounds on my system than you hear in my CDs. But unfortunately those better string section samples have caused my Soundblaster Live soundcard's memory handling limit to get exceeded in most of my orchestral and choral works, so I can't re-record these with the new sounds until / unless I get funds to purchase the new Soundblaster Audigy card, which has a much higher memory handling limit.
You might find my article 'On Finding Your Own Voice as a Composer' interesting in that light. It's accessible from my music home page, or directly at:
http://www.neptunethemystic.co.uk/composvoice.htm