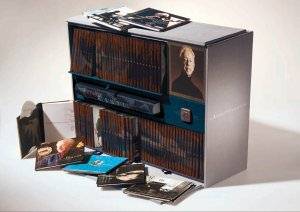 (Photograph © BMG Classics, 1999)

This Collection features includes all studio recordings made by Rubinstein, four previously unreleased recordings and over 200 recordings on compact disc, and also includes two live recitals and two special discs, which contain unreleased recordings and interviews. This will be accompanied by specially commissioned liner notes and a hard-bound collection book featuring additional essays, interviews and photographs.
The Rubinstein Collection presents 82 volumes of recordings in approximate chronological sequence: The first nine volumes cover sessions for HMV between 1929 and 1939, combined with additional British recordings made just after World War II. Volume ten begins a panorama of Rubinstein's American releases for RCA Victor during the late 78rpm and early long-play eras, including remakes of previously recorded repertoire and a considerable body of new works such as Szymanowski's Symphonie Concertante, Grieg's Ballade, and Beethoven's Waldstein Sonata. The remainder of the Collection is primarily devoted to the stereo releases Rubinstein taped from the age of 69 until his retirement 21 years later. Gems from this period include three complete Beethoven Concerto cycles, return visits to the major categories of Chopin's composition, and collaborations with the Guarneri Quartet. Rare recordings of live performances*selections from his 1961 marathon cycle at Carnegie Hall and complete recital programs from Moscow in 1964 and Pasadena in 1975 display Rubinstein's distinctive spontaneity and freshness in front of an audience.
Volume 82, is a 2-CD bonus volume, containing one CD of recordings new to the Rubinstein discography, and one CD of interviews. In addition this collection has an accompanying book, which provides new documentary commentary by Daniel Barenboim, Zubin Mehta, Stanislaw Skrowaczewski, Arnold Steinhardt of the Guarneri Quartet, Donald Manildi, and the pianist's younger son, actor and composer John Rubinstein.
The collection provides access to a vast majority of the piano repertoire, which includes, in addition to all the standard works, music by Albéniz, Debussy, Falla, Poulenc, Prokofiev, Rachmaninoff, Ravel, Saint-Saëns, Szymanowski and Villa-Lobos. As an early exponent of their works, Rubinstein played an important role in their acceptance into the canon. 4. Documentation of Brahms' & Schumann's Piano Traditions: Rubinstein's interpretive tradition can be traced directly back to Brahms via his mentor in Berlin, the violinist Joseph Joachim, and ultimately to Schumann via Brahms. 5. Documentation of Recording History.
| | |
| --- | --- |
| | For more information on theArthur Rubinstein collection, go to the Arthur Rubinstein Web Site which includes a full index of cross-referenced recording information including composer, work, volume, recording date, remastering information, and video reminiscences. |