Ian Venables: A Brief Biography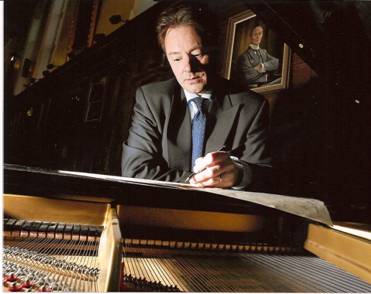 Ian Venables is one of the most important composers at work in the United Kingdom today. This evaluation is not based on the size of his catalogue or on his contributions to the larger forms of music such as symphonies or oratorios. The keynote of Venables's compositional style is intimacy and accessibility. Listening to his work, one is very rapidly struck by three vital impressions. Firstly the fact that most of his music is very much in the English Tradition. Naturally, this is a 'genre' that can be argued about and defined in a number of ways. But suffice to say, his music does not fly in the face of what has been written in the past. However, neither is it a pastiche of a previous generation of composers. Venables is very much his own voice. Secondly, the music is approachable and he has eschewed the use of serialism and aleatoric music popular in earlier decades. Venables's music is not always easy to get to know, but it is always worthwhile to make the effort. The composer's style most certainly does not repel the hearer: however, neither is he ever patronising. Thirdly, the listener is immediately aware of the technical content of this music: Venables is a craftsman. His ability to write effective parts for singers, pianist and other instrumentalists is never in doubt. Yet he never uses effect for effect's sake. His music manages to keep economy of style and material in balance with a typically romantic sound.
The composer's biographical details are available elsewhere, but a few notes will be of interest. He was born in Liverpool in 1955 and was educated at the Liverpool Collegiate Grammar School before studying politics, philosophy and economics at Liverpool University. His musical education included a time with Richard Arnell at Trinity College in London. Further studies with Andrew Downes, John Mayer and John Joubert at the Birmingham Conservatoire completed his formal studies. After a spell in Dorset, Ian Venables is now primarily a composer working in Worcester; however he spends much time lecturing, broadcasting and researching literary interests. He has an involvement with a number of society and musical groups including the famous Three Choirs Festival. He is chairman and president of the Ivor Gurney and the Sir Arthur Bliss Societies respectively.  As part of his involvement with Gurney, he has orchestrated two of that composer's songs.
Although Ian Venables is often regarded as primarily a song-composer, he has contributed to a number of other genres including chamber music. Most important amongst these works are the Piano Quintet, Op.27 (1995), the String Quartet Op.32 (1997) and the Elegy for cello and piano, Op. 2 (1981). 
However, it is his contribution to English Lieder that ranks as his greatest achievement. Perhaps most important are his major song cycles: these include Love's Voice Op.22 (1995), Invite to Eternity Op.31 (1997) for tenor and string quartet, Songs of Eternity and Sorrow Op.36 (2003), On the Wings of Love Op.38 (2006) and The Pine Boughs Past Music Op.39 (2010).
His vocal style has been well summed up by Professor Stephen Banfield, the author of Sensibility and English Song, [Venables has] "...a genius for melancholy, for understanding melodic, harmonic and poetic tradition..."
John France April 2010
Return to the Ian Venables MusicWeb International Home Page [1]