VILÉM TAUSKÝ C.B.E. F.G.S.M. (1910-2004)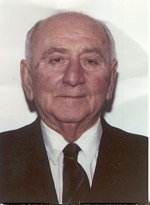 We regret to announce the Death of Vilem Tausky on Tuesday March 16th 2004
A Memorial Concert will take place on 12th March 2005 in Bromley, Kent, UK. Details from b.c.rayson@virgin.net
1910-1938
Vilém Tausky was born in Prerov, Moravia the son of a Czech doctor and a Viennese mother, an opera singer under Mahler. From an early age he was addicted to music and, as a small boy, would follow local brass bands when they played on Sundays. He learned the piano and at seven years of age would accompany his mother and Magda Santrucek, Dvorák's daughter, who was a regular visitor to their home as was Anna, Dvorák's widow. Among his friends were Rudolf Firkusný, Bernard Grun, Vánia Psota and his sister Ljuba, whilst his uncles were the famous composers Leo, Siegfried and Richard Fall and Leo Ascher. On leaving school he commenced law studies at Brno University as his mother wished but later transferred to the Janácek Conservatoire in Brno, his Cello Sonata, written when he was fifteen gaining him the place. His teachers were Janácek,Chlubna and Petrzelka. His degree composition, Symfonietta for full Orchestra won a State Prize and gained him a place at the Prague Meisterschule to study with Suk and Chalabala.
He became repetiteur at Brno Opera House at 18 years of age while still a student. At the age of 19 he replaced Chalabala who was ill and conducted Turandot with Zinka Kuncová (later Milanov) and Jan Kiepura. Two years later he conducted Chaliapin in Boris Godunov. Other operas included Eugene Onegin with Jarmila Novotná, Il Trovatore, again with Zinca Milanov, Rigoletto with Chalabala's wife as Gilda, The Czar's Bride, and The Snow Maiden. His ballet music work included the première of Novák's Signorina Gioventu, directed by Psota who was by then the ballet master at Brno after leaving the Diaghilev Ballet, Romeo and Juliet, Firebird, Spalicek and Le Festin d'araignée. The Tauský orchestration for Les Sylphides is still used at Brno. He first met Richard Strauss when the composer conducted a performance of Der Rosenkavalier at Brno. In 1934 the complete cycle of Janácek's works was performed and he conducted The Cunning Little Vixen after helping Chalabala with the final score corrections; in the same year he conducted the première of Dvorák's First Symphony, only discovered the previous year. He then worked on the score and as repetiteur on From the House of the Dead with Chlubna and Zitek. He played the electronic piano in the first performance of The Outcasts of Poker Flat by Weinberger and then collaborated with him on three operettas. At twelve years of age he had attended the première of Madame Pompadour and decided he wanted to emulate Leo Fall as a conductor/composer so, after helping Weinberger he wrote four operettas of his own. Marcella, - the first operetta ever to be broadcast in Czechoslovakia (April 1934) - was awarded the State radio prize; Cristobal Colon, There's Always a Funny Side, performed in Brno, Sofia and Prague then chosen for the Prague New Year's Eve performance in 1934 and The Girl in Blue. His proposed operetta on Bata the shoe manufacturer never materialised as Beda (Dr Fritz Löhner), the famous librettist who had worked with Lehár and Kálmán, became a Nazi victim before they could start work. In 1937 he started working with Martinu and premièred Tcherepnin's opera Vanka. And the following year conducted Rusalka in a new production by Kvapil, Dvorák's librettist. A few years earlier he had written the score for the Czech film The Lost World and his Piano Variations.
In 1938 he conducted the first performance of his operetta The Girl in Blue in Ceské Budejovice the evening before the German occupation and left for Brno the next morning to find a similar situation. With help from the Director, Jirikovský, who was sending costumes to Paris for the première of Jenufa, plus a letter from Tcherepnin who was the principal of the Russian Paris Conservatoire a French visa was obtained. Jirikovský managed to persuade the local Gauleiter to grant an exit visa but terrifyingly the passport had to be collected from the Gestapo HQ. The Nazis later executed Jirikovský for his liberal views.
1939-1945
Vilém Tauský arrived in Paris on the night express from Prague on 14th April 1939 and linked up with other Czech émigrés including Martinu, Jiri Mucha – son of the great artist – and Vitezslava Kaprálová. Tcherepnin recommended him to the Ballets Russes in Monte Carlo where he worked until the end of July, leaving for Paris to join the Free Czechoslovak Forces. In September 1939 he was appointed Military Bandmaster and formed a scratch orchestra later transformed into a military band. Martinu obtained instruments from the Paris Police and wrote the Field Mass for him but the fall of France meant he was unable to première it. After Dunkirk he and others managed to escape south and crossed to England on a Yugoslav coaler heading for south Wales along with a number of civilians. He was later awarded the Czech Military Cross. A Czech Army Choir was formed and he conducted concerts throughout the country with guest artists such as Malcuzinski, Firkusný, Maria Lonová, Liza Fuchsová et al. Various army postings followed and the army band brought Czech music to England. He wrote Coventry: A Meditation for Strings as a result of the blitz on that city when he was one of the soldiers sent in to help clear the devastation which was played by the Menges Quartet during the Myra Hess Lunchtime Concerts at the National Gallery. It was played for the first time in Coventry itself at the Remembrance Day concert on 11th November 2000 by the Martinu Quartet. He arranged a string orchestra version and played it in concerts in the UK; in the spring of Year 2000 it was premièred in Usti nad Labem by the North Bohemia Chamber Orchestra whose conductor, Haig Utidjian, had been a pupil of Tauský.
He was the first foreigner in 100 years to conduct the Band of the Coldstream Guards in 1940 and in December 1941 he arranged eight Czech carols which were sent to schools throughout the country by the Red Cross. During his time as Czech Military Bandmaster he wrote the marches, Call to Action, Mount St. Michael, Trelissick Gardens, and Cakes and Ale, the last-named later being arranged as an overture for Brass Band. He conducted many concerts with famous singers and instrumentalists such as Benno Moiseiwitch, Solomom, Eileen Joyce, Louis Kentner, Joan Hammond, Nancy Evans, Heddle Nash, Dennis Brain, Cyril Smith and Harriet Cohen amongst others and came into contact with his old friends, Jirí Mucha and Otakar Kraus. The London Philharmonic and Liverpool Philharmonic came under his baton, the latter giving the first British orchestra performance of the complete Ma Vlast cycle. Concert performances of Czech operas The Kiss, Libuse, Rusalka, Jacobin and The Two Widows, then virtually unknown in England, were arranged and conducted by him. He wrote incidental music to T.S.Eliot's poem East Coker and the score for a film, Interim Balance, the history of the Czech Army in exile. Other compositions included his Cello Sonata No.2, Suite for Violin and Piano, Ballade for Cello and Piano and Fantasia da Burlesca for Violin and Orchestra.
1945 onwards
At the end of the war, after being awarded the Czech Order of Merit, he arranged and conducted a farewell concert for President Benes and his provisional Government prior to their departure for Prague; the farewell oration was given by Jan Masaryk, son of Tomás Masaryk the Founder President of Czechoslovakia. In the summer of 1945 he was invited to become musical director of the Carl Rosa Opera Company and his first performance was Tosca at the Wimbledon Theatre in the November with Joan Hammond, Otakar Kraus and John Mryddin. In the audience was Eva Turner, whose career had started with Carl Rosa and later she sang Turandot under his baton at Covent Garden. Other singers he conducted were Helen Ogilvie, Gladys Parr, Tudor Davies, Ruth Packer, Gwen Catley, Norman Allin, Victoria Elliott, Blanche Turner and Janet Howe. And the operas were Madama Butterfly, Rigoletto, La Bohème, Faust, Il Trovatore, The Tales of Hoffman, Carmen, The Flying Dutchman and Cav & Pag. His final opera with them, at the end of three years, was the English première of Smetana's The Kiss. Engaged by Dublin Grand Opera he was asked to help La Scala star Margaret Sheridan with song recordings and broadcast a number of concerts including the first performance of Martinu's Violin Concerto. Next came Wales, Geraint Evans, arrangements for music publishers, coaching singers and composing Variations on a Welsh tune for Piano.
A BBC appointment in Belfast followed and he arranged Six Northern Irish Folk Songs, before being transferred to Glasgow. The BBC Variety Orchestra in Manchester saw him working with Benny Hill, Frankie Howerd, Al Read, Elsie and Doris Waters, Morecombe and Wise, Tessie O'Shea, Jimmy Edwards and Gracie Fields. Concerts with the BBC Northern Orchestra gave the public new works by British composers, the complete cycle of Dvorák's nine symphonies and the first two Bruckner symphonies.
Between 1951 and 1954 he joined the National School of Opera, founded by Joan Cross and Anne Wood, remaining until 1967 helping to train artists such as Ava June, Marie Collier, Inia Te Wiata, Johanna Peters, Myer Fredman, April Cantelo, Kenneth Sandford and Rae Woodland, became Artistic Director of Phoenix Opera and was guest conductor at Covent Garden. At the ROH he conducted The Queen of Spades with Edith Coates in the title role, Tosca with Otakar Kraus, Kinasiewicz and James Johnston then The Queen of Spades with Ljuba Wellitsch a year later, performances of Il Trovatore with Gré Brouwenstijn plus several performances of Salome with Ljuba Welitsch, Dorothy Dow and Christl Goltz. He was asked to become musical director of the Welsh Opera Company, with the Bournemouth Symphony Orchestra engaged for the season; formed in 1946 on a pro-am basis and now known as Welsh National Opera they were invited to perform at Sadler's Wells in 1954 and the same year he was touring with the Covent Garden company performing with Joan Sutherland, Geraint Evans, and Adèle Leigh. In Leeds they were guests of Lord Harewood. In July 1953 he joined Sadler's Wells, his first opera being Hansel and Gretel with Marion Studholme and Anna Pollak. On Boxing Day that same year he was to have the distinction of conducting a matinee performance of this and an evening performance of Il Trovatore at Covent Garden – probably the only conductor ever to conduct two different operas on the same day. Benjamin Britten and Peter Pears invited him to organise the programme for the English Opera Group Aldeburgh Festival in 1954 and succeeding years. He conducted the BBC Symphony Orchestra in all six of Martinu's symphonies in celebration of the composer's sixtieth birthday in 1955 and was able to renew contact with him again as a result. The same year he replaced Barbirolli in a Viennese 'Prom' with the Hallé and the following year was appointed conductor of the BBC Concert Orchestra, remaining with them until 1967. His march Men of Tomorrow was written for them in 1958. During these years he was invited to conduct Gilbert and Sullivan in Denmark and Norway plus an opening concert for the Tivoli Gardens season. In Germany he was asked to play his orchestral suite From our Village and Concertino for Harmonica, written for the virtuoso Tommy Reilly.
During these busy years he arranged Vanhall's Oboe Concerto for Evelyn Rothwelland an orchestral scherzo, Soho and revised and edited some of Walton's scores and performed Façade on several occasions. "Friday Night is Music Night" and "Friday Night is Seaside Night" were two of his popular programmes; Proms, a tour of Holland, the Edinburgh Festival, and guest conducting at the Royal Military School of Music where he also acted as examiner for conducting pupils were part of his schedule as well as Sadler's Wells. Here he conducted Nelson, Il Trittico, Andrea Chénier and Rusalka with Joan Hammond, Charles Craig and Howell Glynne. Die Fledermaus and The Land of Smiles, produced by Wendy Toye followed then The Violins of St.Jacques, dedicated to him and his wife by the composer, Malcolm Williamson. The Concert Orchestra was chosen by the Musicians Benevolent Fund for the annual St. Cecilia's Day Concert and on the fiftieth anniversary they returned and he was Guest of Honour. He and the orchestra were awarded a BBC prize following a special broadcast to Hungary.
He created the Towersey Festival for Children with professional singers, including Owen Brannigan in Noyes Fludde, and gold medal soloists from the Guildhall School of Music where he became Director of Opera and Head of Conducting remaining for some twenty years. He conducted and adjudicated at the National Brass Band competitions and in 1972 wrote Concert Overture for the competition. And he conducted the Choir of 1,000 Cornish Voices accompanied by Brass Band at the Albert Hall in addition to adjudicating for the BBC for the weekly Challenging Brass competition. Viennese music concerts on Sunday nights at the Albert Hall plus Czech opera broadcasts and talks led to his being appointed to the BBC Music Advisory Council in 1973. In 1974 he was invited back to the Czech Republic to conduct operas in Brno, Ostrava and Olomouc and the following year to the Slovak Republic. In 1979 he became a Fellow of the Guildhall School of Music and a Freeman of the City of London. For many years he spent part of his time at Harlech teaching at the summer school and in 1982 was appointed C.B.E. for his services to music.
At eighty-four years of age he conducted the British première of The Brandenburgers in Bohemia, bringing his total of British opera and operetta premières to twenty-six and in 1998 wrote Serenade for Strings. Premièred by Whitgift School Orchestra in October 2001 they then played it in three concerts during their tour of Japan. The arrangement of Vanhall's Oboe Concerto was featured in May 2001 at the St. George's Arts Festival by the Bromley Youth Music Trust. His books, Vilém Tauský Tells his Story and Janácek: Leaves from his Life, both written in conjunction with his wife, were published in 1979 and 1982 respectively and his recently completed History of Operetta is currently with a publisher. He is totally committed to musical education and regularly attends concerts by youth groups as well as adult amateur orchestras and choirs. President of the Bromley Oecumenical Singers, West London Sinfonia, Ruislip, Chinnor and Perivale Music Societies and a Vice-President of the Dvorák Society he is also Patron of the William Alwyn Society and a Patron of the Bromley Arts Council Ripley Development Appeal.
In October 1999 he was invited to the Martinu Institute in Prague where he was presented with a medal in recognition of his services to Czech music and in July 2000 he was awarded the Jan Masaryk Gratias Agip Prize by the Czech Government, presented by His Excellency the Czech Ambassador at a 90th birthday celebration hosted jointly by the Ambassador and the Dvorák Society. The same year, in October, he was again invited to Prague, to receive the Gold Medal and Honorary Doctorate from the Faculty of Music, Charles University.
In September 2002 he became a Patron of the Viktor Ullman Foundation in the UK and in October 2002 a Patron of the Pavel Haas Foundation in the UK. In November of that year he was invited to become a Patron of the St.Olave's School Appeal for a new Music, Performing Arts and Sixth Form Centre, In June 2003 he became an Ambassador for the City of Coventry.

---

Return to: Classical Music on the Web
---