Cast:

Sian - Lisa Milne
Evan - Leigh Melrose
General - Christopher Purves
Megan - Sarah Tynan
Mal - Peter Hoare
Three Birds/ Dressers - Rosie Hay, Samantha Hay, Amanda Baldwin
Gwyn (non-singing child) - Cameron Jones
Elis (non-singing child) - Tomos Hardy / Ben Evans

Production:

Composer/Conductor -James MacMillan
Librettist -Michael Symmons Roberts
Director -Katie Mitchell
Set Designer -Vicki Mortimer
Costume Designer -Miriam Buether
Lighting Designer - Paule Constable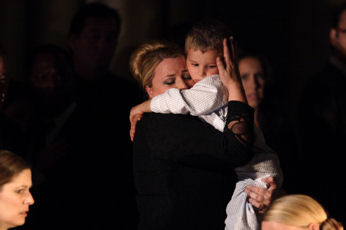 Sian ( Lisa Milne) and Elis ( Tomos Hardy)
A new season, a new opera and the omens for WNO seem promising. James MacMillan's well-crafted score for The Sacrifice is attractive and often beautiful and illustrates a potentially dramatic and superficially comprehensible plot based on 'The Tale of Branwen, Daughter of Llyr ' from the The Mabinogion. It's all sung elegantly by an expert cast and chorus, and the production is mercifully free of too much hard-to-fathom symbolism. The first night audience loved it.
After years of bitter conflict, Sian daughter of a General marries Mal, the leader of a nearby kingdom to bring peace between the two warring nations. Still embittered by race hatred and jealousy, Sian's former lover Evan stabs Mal at the wedding and is imprisoned on the General's orders; the uneasy alliance is preserved.
Seven years pass and at the crowning of Mal and Sian's elder son Gwyn as the Boy King of the two united countries, Mal welcomes Evan to the ceremony, declaring that they are no longer enemies. Evan thinks otherwise and shoots the child dead and when disaster seems inevitable, the General, though badly wounded by Mal in the former conflicts, disguises himself as Evan and deceives Mal into shooting him in turn. On discovery, this sacrifice seals the peace.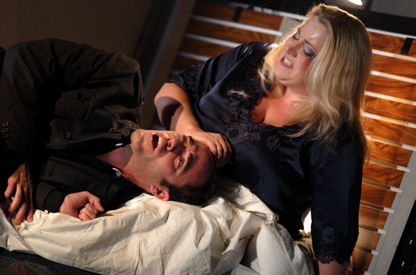 Leigh Melrose (Evan) and Lisa Milne (Sian)
Composer, librettist and director planned the whole production collaboratively on a workshop basis and as James MacMillan says of it, development was a 'slow burn' taking ten years to complete. The result is unquestionably a modern take on the three act 'grand opera' requiring large orchestral forces, eight principal singers and important pieces for a substantial chorus which features particularly strongly. Rather like Rautavaara's Rasputin ( see review) however - and as Boris Johnson is fond of saying about learning Latin - it seems that the work's way forward is backwards.
The music itself - while expertly constructed, thoroughly melodic and full of repeated themes - contains huge numbers of resonances, allusions and occasional direct quotations from earlier 20th century composers. It's hard not to be reminded of Britten (especially Grimes) a good deal of the time and unless my ears deceived me completely there was more than a snatch of Rautavaara himself as well as some pure Bernstein every now and again: doubtless all used consciously, sometimes ironically and always attractively but never quite the soundscape for a plot set in 2080, the director's declared time frame.
Translating the action from mythic Celtic time to the relatively imminent future is something of a problem too, so it's never entirely clear where what we see takes place. About the only clue offered is that the opposing sides sing ' Shalom' and 'Salaam' at the wedding but there is nothing else in text, sets or costumes to specify whether we're in Europe or elsewhere. While the story should be shocking and potentially horrific, the direction also portrays the protagonists (apart from the evil Evan, though even he sees the light after the General dies) as quite a decent set of folk, fond of cars, nice clothes and champagne - except that some of them smoke (horror, horror.) It is curiously hard to care that much about any of them or to tune in to the conflicting emotions that they are supposed to be experiencing : they switch blandly from blood thirsty rage to goodwill which dampens the dramatic tension.
Casting is however exceptional and the production is held together by some of the best singing heard at WNO for some time. Lisa Milne is simply splendid as Sian and Sarah Tynan offers a touching portrayal of her sister Megan, afflicted with some kind of mental disorder - caused perhaps by the stress of the war, though there's no clear means of telling. The three male principals , Christopher Purves (General) Peter Hoare (Mal) and Leigh Melrose (Evan) are all in excellent voice and James MacMillan leads the WNO through his elaborate score in fine style. As always, the WNO chorus delivers ensemble singing of the highest standards.

All in all then, despite its dramatic and musical puzzles this is an enjoyable evening out. Whether it will last or not, is a different kind of question.