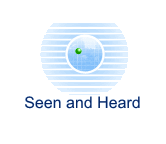 Editorial Board

London Editor:
(London UK)
Melanie Eskenazi

Regional Editor:
(UK regions and Worldwide)
Bill Kenny

Webmaster:
Bill Kenny

Music Web Webmaster:
Len Mullenger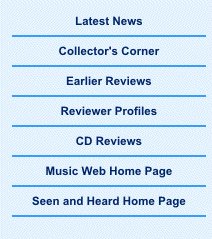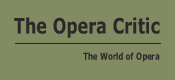 MusicWeb is a subscription-free site
Clicking Google adverts on our pages helps us keep it that way

Seen and Heard Promenade Concert Review
Prom 64, Ives, R. Strauss and Shostakovich: Deborah Voigt (soprano) San Francisco Symphony Orchestra (conductor Michael Tilson Thomas), Royal Albert Hall, London, 1.9. 2007 (GD)
Ives: Symphony No.3
R. Strauss: Salome - Final Scene
Shostakovitch: Symphony No.5
This was imaginative programming contrasting traditional Presbyterian American hymnody, fin de siècle Austro/German decadence, and Soviet musical realism, although things are never as simple as these neat categories imply. The Ives piece, written at the turn of the last century, is absolutely beautifully and economically composed with the most innovatively subtle orchestration; it could almost be called Ives's 'Semplice symphony', so spontaneous does it sound with its initially simple harmonies depicting the unadorned plain worship in 'Camp Meetings' of the traditional American Presbyterian faithful. But this can be deceptive. Charles Ives's Third Symphony, entitled 'Camp Meeting' incorporates contrasting sequences of polytonality, tonal clusters and striking dissonances a good decade before Schoenberg!
Tilson Thomas and San Francisco Symphony, which played superbly throughout the concert, seem to be in their element in this echt American music. The San Francisco orchestra, especially their strings and woodwind (variously contrasted and homogenized to suit the music) appear to be second to none among American orchestras in their diversity of tone, subtlety of phrasing, and amazing dynamic range. Tilson Thomas elicited just the right contrast in character to suit the musical rhetoric of each piece; the second movement 'Children's play' was particularly eloquent here with its subtle rhythmical play and beautifully realised translucent orchestration. Here and there I thought the old recording with Howard Hanson and the Eastman-Rochester Orchestra brought out the mildly quirky sway of the dance-like sequences more idiomatically. But overall this was a joy to hear; Tilson Thomas well.attuned to the work's integrity and restrained eloquence also its afore-mentioned moments of harmonic clash and dissonance.

I don't think the last scene of Salome works so well in concert as, say, the 'Liebestod' from 'Tristan', or even Brünnhilde 'Immolation' scene from 'Gotterdammerung'. The reasons for this are partly to do with the operatic, dramatic realism Strauss (from Oscar Wilde through his librettist Hedwig Bachmann) wished to convey- the Wagner pieces mentioned project a more symbolic, mythical mise en scène- and partly to do with the overall shortcomings of Strauss's opera. Also, and surely, it would have been more plausible in the sense of narrative contrast to deploy a bass to portray the Tetrarch from the other end of the concert stage (Salome still having all the best tunes so to speak.) Salome's odious necrophiliac shenanigans with the head of Jochanaan only make real operatic sense if contrasted with the equally decadent and culpable pusillanimity of the Tetrarch. Indeed the only good thing the lecherous Tetrarch does in the opera is order his guards to crush Salome beneath their shields at the end of the work, to everyone's relief, including the orchestra and singers!

Although Salome was first produced in December 1905 in Dresden it has a distinct tone of fin de siècle decadence; Oscar Wilde's play was written in 1891/2. It is said that one either 'loves' or 'loathes' 'Salome'. Well, if it is loved it has to be loved in the full 'Grand Guignol'sense, in all its gaudy sensationalism. So how did Miss Voigt and Tilson Thomas fare in this 'ornamental piece of kitsch' as philosopher and musician Theodor Adorno described it? Tilson Thomas took the advice of Strauss and conducted in a mercurial, light but rhythmically incisive manner, similar to conductors like Krauss, Reiner and more recently Dohnanyi. Tilson Thomas understands the importance of vocal line, and clarity of texture, not always easy with Strauss's often thick orchestration; the emission of the big C major tune on high strings at 'Salome's declaration of love (possession) of the head, becoming so tediously predictable in Strauss's later operatic/orchestral works, was not overdone by conductor and orchestra; if inevitably even the San Francisco strings cannot quite match those of the Vienna Philharmonic for silvery opulence and sensuous tone.

Miss Voigt has a commanding stage presence, accentuated here by a bright red dress. Strauss said that his 'ideal' Salome would be a 'sixteen-year-old Princess with the voice of an Isolde'. Miss Voigt certainly does not meet that description, but apart from being a bit cruel on singers is not Strauss asking the impossible? Voigt's German was for the most part well articulated although I could not quite discern her 'Geheimnis des Todes' while she is singing of love as a greater mystery than death to the head, but that could well be due to the Albert Hall acoustic, not always kind to singers. In sheer vocal terms Miss Voigt was excellent all the way through. But at times she sounded more like an older woman (which she is), almost matronly, more like Fricka from 'Das Rheingold' than the sixteen year old sexually perverted and slightly tremulous Princess. Here Ljuba Welitsch, Christel Goltz, and more recently Catherine Malfitano sound much more in the role.

At the death (murder) of Salome Strauss asks for very marcatissmo fff crushing chords from tutti orchestra. Here Tilson Thomas underplayed this effect, 'sounding' but not shocking. This of course was consistent with his whole de-sensualizing approach to the score. Which begs the question: is it not equally valid to conduct, play 'Salome' at full throttle as Solti did, and I imagine Beecham would have done? Does not a preposterous work demand a preposterous conductor? Despite the composer's remarks to the contrary, does subtlety of delivery, implying taste, have a place in this full blooded and gory piece of operatic'Grand Guignol'?

I am pleased to report that Tilson Thomas conducted Shostakovich's Fifth symphony as a perfectly composed symphonic structure, all four movements interlinking thematically and harmonically in an almost 'classical' manner. I emphasise this focus on the 'musical' aspects of the symphony as it has been subjected (especially by Western musical commentators) to all manner of extra-musical conjecture and speculation. It is all the more surprising that Solomon Volkov's 'Testimony'written just after the composer's death in 1975 is still taken seriously; many of its assumptions, mythologies of Shostakovich as some kind of double agent who incorporated anti-Soviet motives, codes in his work, have since been proven as at best misinformed conjecture.

Tilson Thomas inflected the opening 'Moderato' in full strings with just right balance of sustained D minor, and forward thrust. Shostakovich writes the contrasting string figurations (here and in the third movement 'Largo') to sound like a string quartet, and this is exactly how they were delineated here; what a pleasure to hear everything together and in tune! The later military sounding march music (was Shostakovich influenced by Nielsen's Fifth Symphony here?) was well paced and rhythmically defined without sounding loud or raucous…it only reaches an ff when the march theme together with opening theme is stated in the recapitulation in D minor. The second movement 'ländler' sounding theme in ¾ rhythm was well accented, as were the Russian folk-theme inflections in the quasi-trio section. The third movement 'Largo' achieved its opening hushed intensity with a minimum of rubato and string vibrato (although some rubato is consistent with the score as Mravinsky (who gave the work's premiere) demonstrated in his many different recordings of the work.) In Tilson Thomas's reading the Largo evolved as a great musical arch, the conductor never imposing agogic emotional/dynamic highlighting on the score, but letting the score unfold as it is written.

Tilson Thomas reminded us that the 'Allegro non troppo' finale is in fact very skilfully related to the rest of the symphony thematically; the Largo's main theme recast in modulations of D minor/ C minor in sustained pp just before the works final triumphant peroration. Critics and commentators from the Volkov school of Shostakovich wisdom endlessly disclaim this last movement as 'hollow', the D major repeated chords of triumph in brass and percussion especially in the coda as the composer parodying the bombast of the Soviet official parades of celebration. Do the same commentators ever disclaim say the much less well composed repeated fanfares on percussion and brass at the close of Mahler's Third symphony as parodying the monumental pomposity of late Biedermeier decorative style, a term which came to encapsulate Austro/German bourgeois pomposity ?

Such extra-musical speculations only serve to distort and erode the powerful 'musical' message of Shostakovich's work. And tonight Tilson Thomas and his superb orchestra gave us this great Russian symphony shorn of all rhetorical/interpretive detritus. And in the process Shostakovich's Fifth symphony was translated to us in all its stunning diversity, freshness and power.
Geoff Diggines

Seen and Heard, one of the longest established live music review web sites on the Internet, publishes original reviews of recitals, concerts and opera performances from the UK and internationally. We update often, and sometimes daily, to bring you fast reviews, each of which offers a breadth of knowledge and attention to performance detail that is sometimes difficult for readers to find elsewhere.
Seen and Heard publishes interviews with musicians, musicologists and directors which feature both established artists and lesser known performers. We also feature articles on the classical music industry and we use other arts media to connect between music and culture in its widest terms.
Seen and Heard aims to present the best in new criticism from writers with a radical viewpoint and welcomes contributions from all nations. If you would like to find out more email Regional Editor Bill Kenny.
Contributors: Marc Bridle, Martin Anderson, Patrick Burnson, Frank Cadenhead, Colin Clarke, Paul Conway, Geoff Diggines, Sarah Dunlop, Evan Dickerson Melanie Eskenazi (London Editor) Robert J Farr, Abigail Frymann, Göran Forsling, Simon Hewitt-Jones, Bruce Hodges,Tim Hodgkinson, Martin Hoyle, Bernard Jacobson, Tristan Jakob-Hoff, Ben Killeen, Bill Kenny (Regional Editor), Ian Lace, John Leeman, Sue Loder,Jean Martin, Neil McGowan, Bettina Mara, Robin Mitchell-Boyask, Simon Morgan, Aline Nassif, Anne Ozorio, Ian Pace, John Phillips, Jim Pritchard, John Quinn, Peter Quantrill, Alex Russell, Paul Serotsky, Harvey Steiman, Christopher Thomas, Raymond Walker, John Warnaby, Hans-Theodor Wolhfahrt, Peter Grahame Woolf (Founder & Emeritus Editor)
Site design: Bill Kenny 2004