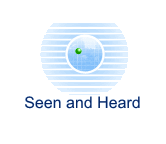 Editorial Board

London Editor:
(London UK)
Melanie Eskenazi

Regional Editor:
(UK regions and Worldwide)
Bill Kenny

Webmaster:
Bill Kenny

Music Web Webmaster:
Len Mullenger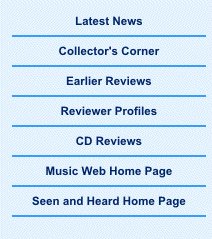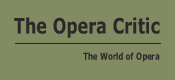 MusicWeb is a subscription-free site
Clicking Google adverts on our pages helps us keep it that way

Seen and Heard Promenade Concert Review
Prom 55, Wagner and Debussy: Tenebrae (women's voices) Royal Concertgebouw Orchestra, Bernard Haitink (conductor) 25.8.2007 (MB)
Wagner - Parsifal: Prelude to Act I and 'Good Friday Music'
Debussy - Nocturnes
Debussy (orch. Rudolf Escher) - Six épigraphes antiques
Wagner - Tristan und Isolde: Prelude to Act I and 'Liebestod'



What are we to do about Wagnerian 'bleeding chunks'? Ever since Sir Donald Tovey coined the phrase, and arguably before, there has been some doubt concerning the appropriateness of performing sections of Wagner's music-dramas out of context, especially when this involves omission of vocal lines. Probably the best course of action is pragmatic: if something works, it does, and if not, leave it well alone, whilst always bearing in mind that one may be doing Wagner less than justice and in some cases even violence. There seem to be few if any problems with a concert performance of the Prelude to Act I of Die Meistersinger; with these Parsifal excerpts, I am less sure. The Prelude to Act I is so much a prelude to what follows, a necessary preparation that can only lead in one direction, that it cannot produce anything like the effect it would in prefacing the drama. Fair enough, one might say; in which case, treat it simply as a concert overture. This might work in theory, although I cannot recall an utterly convincing example. Do we not treasure even Furtwängler's reading above all since we lack a recording of the entire work? However, there was little sense here of a self-standing piece, or even of one which made more sense alongside the 'Good Friday Music'.

This is mere speculation, of course, but I wondered whether Bernard Haitink's current preoccupation with Parsifal - he has recently conducted the work in Geneva, and will return to Covent Garden to do so in December - inclined him to hear the music simply as it would be in a reading of the entire drama. The 'Good Friday Music' in particular might well have worked perfectly well in the opera house - with voices - but here it really did seem a 'bleeding chunk'. The orchestra sounded fine for the most part, but on occasion did sound a little drab. We could have done with far more of the Debussian sense of being 'lit from behind'. There was nothing especially 'wrong', but electricity and luminosity were not in abundant supply. It pains me to say so, since there can hardly be a greater admirer of Haitink's Wagner than I, but this was not a memorable account.

Not to worry: matters improved thereafter. Haitink and the Concertgebouw have a long track record in Debussy, their 1979 recording of the Nocturnes having garnered awards. The balance between the three movements was expertly judged, as if one were dealing with a three-movement symphony. Nuages seemed to grow out of the sounds of late Wagner, but with more attention paid to colour. Liszt's extraordinary late piano piece, Nuages gris, much admired by Debussy, also sprang to mind as a source. But the sound was all Debussy's own. Haitink has never been a conductor to exhibit the laser-like clarity of Boulez in such repertoire - or indeed in any other repertoire - but one could hear everything that was going on, especially the delightful woodwind, without any loss of atmosphere. The rhythmic assuredness of Fêtes had almost the implacability of Ravel, again without losing the impressionistic ambiguity so personal to Debussy. Antiphonal placing of the women's voices paid dividends in Sirènes, and once again the woodwind, not least the English horn, shone, as did the beautiful muted trumpets. One could have lingered forever with these dangerous siren sounds, but then that is the point. All I missed was a hint more of Wagner from the strings, which sounded uncharacteristically lean. A little more refulgence would not have gone amiss, although one might well argue that they sounded all the more 'French' for this.

Rudolf Escher's orchestration of the Six épigraphes antiques was also well performed. I am not convinced that the orchestration is quite the last word, although it appears to have become quite popular. It neither sounds quite like original Debussy - how could it? - nor like an imaginative re-creation in a personal voice of the composer's own. The seductive combination of flute and harp is perhaps a little over-used. Still, both orchestration and performance gave some sense of the music's origin in incidental music (to a recitation of poems by Pierre Louÿs), whose material was then reused in the relatively well-known work for piano duet. At the risk of unbearable repetitiveness, this item once allowed the woodwind to exhibit great beauty and individuality of tone.

Fine though the Debussy items were, though, the fitting climax came with the Tristan excerpts, and with the so-called 'Liebestod' in particular. (The term comes from Liszt, in his piano transcription, not Wagner, who favoured Verklärung, 'transfiguration'. Still, we appear stuck with 'Liebestod', so best not to complain unduly...) Here, Haitink's experience with the work in the theatre - who could ever forget his magnificent account during his last season as Music Director at Covent Garden - paid dividends. One loses much, of course, by only having the opening and the conclusion, but there was here perhaps enough distancing too, to allow the music to emerge on its own terms. There was never any doubt of the inevitability of where it was heading (Furtwängler's fabled Fernhören), save for the slight awkwardness of transition between Prelude and 'Liebestod'. Nothing can be done about that really, for the two do not really belong together, as Tovey pointed out. Here at last the strings shimmered with the vibrato of Nietzsche's 'voluptuousness of Hell', with no sacrifice in terms of the rest of the orchestral playing, which was uniformly superb.

Haitink's wisdom shone through in the marvellously judged ebb and flow. If the climaxes were not shattering, as they might be in the theatre, here they benefited from his expert musical shaping. There was never any question of transforming the music into an orchestral showpiece; in that, I was reminded of Abbado's Mahler Third a few nights earlier. It may be a forlorn hope, but we must hope nevertheless that Haitink will once again have and take the opportunity to conduct the entire work. Responding to the warmth of the reception that will surely always be his in London, Haitink then allowed the orchestra to show off in a blazing encore: the Prelude to Act III of Lohengrin.
Mark Berry
Back to the Top
Back to the Index Page

Seen and Heard, one of the longest established live music review web sites on the Internet, publishes original reviews of recitals, concerts and opera performances from the UK and internationally. We update often, and sometimes daily, to bring you fast reviews, each of which offers a breadth of knowledge and attention to performance detail that is sometimes difficult for readers to find elsewhere.
Seen and Heard publishes interviews with musicians, musicologists and directors which feature both established artists and lesser known performers. We also feature articles on the classical music industry and we use other arts media to connect between music and culture in its widest terms.
Seen and Heard aims to present the best in new criticism from writers with a radical viewpoint and welcomes contributions from all nations. If you would like to find out more email Regional Editor Bill Kenny.
Contributors: Marc Bridle, Martin Anderson, Patrick Burnson, Frank Cadenhead, Colin Clarke, Paul Conway, Geoff Diggines, Sarah Dunlop, Evan Dickerson Melanie Eskenazi (London Editor) Robert J Farr, Abigail Frymann, Göran Forsling, Simon Hewitt-Jones, Bruce Hodges,Tim Hodgkinson, Martin Hoyle, Bernard Jacobson, Tristan Jakob-Hoff, Ben Killeen, Bill Kenny (Regional Editor), Ian Lace, John Leeman, Sue Loder,Jean Martin, Neil McGowan, Bettina Mara, Robin Mitchell-Boyask, Simon Morgan, Aline Nassif, Anne Ozorio, Ian Pace, John Phillips, Jim Pritchard, John Quinn, Peter Quantrill, Alex Russell, Paul Serotsky, Harvey Steiman, Christopher Thomas, Raymond Walker, John Warnaby, Hans-Theodor Wolhfahrt, Peter Grahame Woolf (Founder & Emeritus Editor)
Site design: Bill Kenny 2004