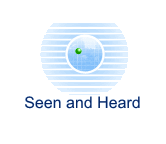 Editorial Board

London Editor:
(London UK)
Melanie Eskenazi

Regional Editor:
(UK regions and Worldwide)
Bill Kenny

Webmaster:
Bill Kenny

Music Web Webmaster:
Len Mullenger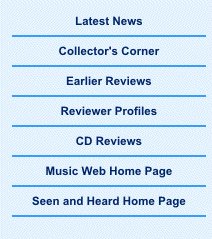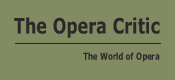 MusicWeb is a subscription-free site
Clicking Google adverts on our pages helps us keep it that way

Seen and Heard Promenade Concert Review
Prom 45, Schoenberg, Knussen, Henze, Stravinsky: Leila Josefowicz (violin) BBC Symphony Orchestra, Oliver Knussen (conductor) Royal Albert Hall 17.8.2007 (GD)


As we have come to expect from Knussen this was an extremely well thought-out programme; a Prom premiere and a composition by Knussen himself, flanked by two absolute modern 'classics'.

The concert opened with an eminently sane reading of Schoenberg's Five pieces for orchestra Op 16. In the first piece 'Vorgefuhle' (Preliminary feelings) Schoenberg immediately thrusts us into his new musical economy of unprecedented, sometimes violent contrasts in tonality and texture; his 'Klangfarbenmelodie'. Knussen's straightforward approach hardly captured this sense of sudden dissonant contrast, neither did it register the composer's amazing and tense condensation of multiple colours and themes within a staggering short musical space. Just listen to this work as conducted by Hans Rosbaud in 1958! Similarly, the second piece 'Vergangenes' (The past) didn't achieve the constant textual, tonal transformations implicit in the musical density of the ostinato figures and the corresponding multiplicity of contrasts in the ever new instrumental groupings. 'Farben' and 'Peripetie' were similarly bland with little sense of the pieces' contrasts with each other within the context of the whole work. The final 'Das obligate Recitative' lacked the sense of a quasi-vocal (operatic?) figure developing from a staggering range of instrumental groupings at contrasting levels of pitch. It was evident that Knussen's approach backfired here. Moreover, in the last piece particularly , the BBC SO's violin and string section were not always together. Knussen is not alone among contemporary conductors (with the exception of Boulez) in failing to register the essential 'otherness' of this work. However I was expecting more from this composer/conductor, who specialisesin modern music.

Knussen's Violin Concerto is a most engaging, intricately thought out, and economical work. It runs as a continuous - 15 minute - span in three discernable sections, and is scored for a smallish orchestra with an interesting deployment of percussion. It is fitting that this piece preceded a UK premiere of a work by Hans Werner Henze as, in places, it has compositional links with Henze, especially in his more lyrical earlier scores like Apollo et Hyacinthus (1948-49). The first section juxtaposes lyrical passages with more rhythmically complex material, and introduces some of the main themes heard in transformed register later on. Knussen has made comparisons between the second and final section with a quasi baroque cavatina (second section), and a gigue like figure (final section). Although as far as I know, Knussen has not made overt allusions to commedia dell'arte, his allegory of the last section gigue as being danced to by a clown, has definite 'commedia' connotations; and of course Stravinsky, Schoenberg and Henze have all deployed such motives in their music. The performance, as one would expect, sounded exemplary and wasno doubt thoroughly rehearsed. Although Miss Josefowicz played in an unashamedly virtuoso style, I had the impression that a more integrated contribution from the violinwould have suited the intimate character of the music rather better.

Henze's latest orchestral work Sebastian im Traum, received its world premiere in Amsterdam with the Concertgebouw Orchestra in December 2005, with Jansons conducting. Henze takes (as the works title suggests) his inspiration from Georg Trakl's 1915 poem of the same name. Like the philosophers Heidegger and Walter Benjamin, Henze has had an enduring interest in Trakl's work - and Trakl's complex stanzas project a most musical tonality in their concern for varying, juxtaposing textual lines and rhythms, their frequent discontinuities and poetic invocations of silence. Sebastian im Traume is suggestive of the poet's (Trakl's) dream memories of his native Salzburg, or more accurately of mostly nocturnal images of the landscape near Salzburg. His quasi- symbolist poetic imagery juxtaposes childhood memories of delight and joy with more disturbing memories of a mortuary; in Henze's words 'joy turns to dissolution, autumnal dreams, angels and shadows'. This material is particularly resonant for Henze as he had a long stay in Salzburg in 2003 and was similarly affected by the cities 'catholic melancholy', its baroque buildings' and its 'closeness to death'.

This work is one of his most condensed and compelling Henze compositions to date. Like the previous Knussen concerto in tonight's programme, it also lasts around 15 minutes and is in three closely interconnected sections. Henze is most specific regarding matters of dynamic register and contrast also tempo in the score: he gives two of the sections actual time signatures (eg. the first section is crotchet = 80 .) Henze deploys a very large orchestra with multiple percussion, but uses these large forces most subtlely and economically.

Jansons' rendition adhered to the composers instructions much more accuratley tha Knussen's, with a more nuanced projection of the subtle dynamic gradations and contrasts: Henze's ability to interpolate very subtle and obviously relevant references (not actual quotations) from Mozart's soundscape, marks him out as one of the truly compelling composers still alive. Knussen's interpretation was more 'dramatic' ( for want of a better term) although one could also describe it as more full blown. It was certainly louder all the way through than Jansons', especially in the genuinely dramatic sections which close the work. The Jansons performance also had the great advantage of a well rehearsed Concertgebouw Orchestra with which the BBC orchestra cannot seriously compete, especially in the string section, sounding unco-ordinated and strained at times.

Overall it was interesting to hear a contrasting interpretation of this important work, even if ultimately the Jansons, with it's greater adherence to Henze's meticulous score, provided me with a more compellingly satisfying musical experience.

I had been looking forward to Knussen conducting Le Sacre du Printemps as I had heard and enjoyed a recording he had made of the complete Stravinsky Ballet Le Baiser de la fée with the Cleveland Orchestra. Rather than sticking to the widely used 1947 composer' s revision of Le Sacre Knussen opted for a 1943 revision which incorporates ealier revisions dating from 1929. This performing version is mostly notable for retaining some of the composer's earlier orchestration (mostly in the brass section) in the 'Sacrificial Dance'.

From the famous high register bassoon opening I was worried by a degree of wavering pitch and messy ensemble which persisted into the introduction proper. After the introduction Knussen rushed into the 'tempo giusto' of 'The Augurs of Spring'. Between this and the next section 'Dance of the Young Girls', Stravinsky specifically requests a 'tempo giusto' which is specifically what Knussen ignored. In fact Knussen didn't seem to be able to secure any kind of sustained, or 'strict tempo'. By the time we reached the massive and complex tutti (twelve-part) ostinato section in the 'Dance of the Earth', leading to the conclusion of Part One, Knussen had still not established any sense of sustained tempo; the whole crucial section was rushed and rhythmically confused; a travesty of a uniquely powerful and arresting inspiration. Stravinsky makes it absolutely clear that a sustained 'lento' tempo is essential here in keeping with his very apt 'continuity of pulsation'.

The introduction to Part Two was marred by off pitch woodwinds and strings. The woodwind were also too loud in the 'Mystic Circle of the Young Girls', and I could not recognise any sense of 'Andante con moto' here. 'The Glorification of the Chosen One' again lacked any sense of sustained 'tenuto' throughout; bass drum and timpani were frequently off rhythmically and played too loudly, obscuring important woodwind and lower string configurations. And the 'molto allargando' marking at the beginning of the da capo section was ignored. In contrast to the over-loud percussion in the previous section however, the beginning of the 'Evocation of the Ancestors', where the composer requests fff sforzando timpani interjections/ crescendos, was characterised by virtually inaudible timpani.

This depressing state of affairs continued into the concluding sacrificial dance of death of 'The Chosen One'. The sustained Sempre crescendo which initiates this section, and which develops accumulatively until the final catastrophic release of energy - an urgent sense of sustained rhythmic energy in reserve for that final release - was totally lost here, with the crucial fff marcatissimo at cue 162 simply failing to make its impact. Sadly, the whole section registered as no more than a gabbled, loud rush of ill-co-ordinated sound.

It gives me no pleasure to write such a negative review, but I can only report what I heard. One could conjecture that this was a particularly long and gruelling programme on a hot August evening but the BBC orchestra are well used to such conditions: I have heard them play equally long and difficult Prom concerts with Boulez and still manage a tremendous 'Le Sacre'. Perhaps it was lack of rehearsal time that caused the problems but whatever it was, I am sure that Knussen, given the right conditions, and (say) the Concertgebouw or Cleveland orchestras, could yet give us a fascinating performamce of this Stravinsky masterpiece.


Geoff Diggines
Back to the Top
Back to the Index Page

Seen and Heard, one of the longest established live music review web sites on the Internet, publishes original reviews of recitals, concerts and opera performances from the UK and internationally. We update often, and sometimes daily, to bring you fast reviews, each of which offers a breadth of knowledge and attention to performance detail that is sometimes difficult for readers to find elsewhere.
Seen and Heard publishes interviews with musicians, musicologists and directors which feature both established artists and lesser known performers. We also feature articles on the classical music industry and we use other arts media to connect between music and culture in its widest terms.
Seen and Heard aims to present the best in new criticism from writers with a radical viewpoint and welcomes contributions from all nations. If you would like to find out more email Regional Editor Bill Kenny.
Contributors: Marc Bridle, Martin Anderson, Patrick Burnson, Frank Cadenhead, Colin Clarke, Paul Conway, Geoff Diggines, Sarah Dunlop, Evan Dickerson Melanie Eskenazi (London Editor) Robert J Farr, Abigail Frymann, Göran Forsling, Simon Hewitt-Jones, Bruce Hodges,Tim Hodgkinson, Martin Hoyle, Bernard Jacobson, Tristan Jakob-Hoff, Ben Killeen, Bill Kenny (Regional Editor), Ian Lace, John Leeman, Sue Loder,Jean Martin, Neil McGowan, Bettina Mara, Robin Mitchell-Boyask, Simon Morgan, Aline Nassif, Anne Ozorio, Ian Pace, John Phillips, Jim Pritchard, John Quinn, Peter Quantrill, Alex Russell, Paul Serotsky, Harvey Steiman, Christopher Thomas, Raymond Walker, John Warnaby, Hans-Theodor Wolhfahrt, Peter Grahame Woolf (Founder & Emeritus Editor)
Site design: Bill Kenny 2004