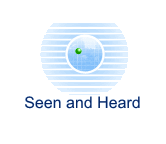 Editorial Board

London Editor:
(London UK)
Melanie Eskenazi

Regional Editor:
(UK regions and Worldwide)
Bill Kenny

Webmaster:
Bill Kenny

Music Web Webmaster:
Len Mullenger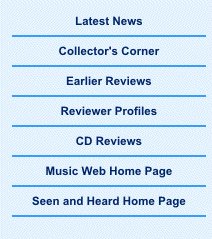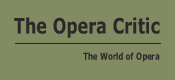 MusicWeb is a subscription-free site
Clicking Google adverts on our pages helps us keep it that way

Seen and Heard Promenade Concert Review
Prom 15: Verdi, Macbeth. Glyndebourne Festival Opera, Soloists and Chorus, London Philharmonic Orchestra cond. Vladimir Jurowski. 24. 7. 2007 (ME)
Geoffrey Dolton, the wonderful 'celebrated, cultivated, underrated Duke of Plaza-Toro' in ENO's recent production of The Gondoliers, is clearly a man of many talents: given the task of staging this version of Richard Jones' production of Macbeth, he clearly opted for an emphasis on its comic-opera elements, an emphasis more or less dictated by the original staging. Someone, sometime, needs to take these 12 year old (all right, 33 year old?) directors aside and whisper that, er, um, Kilts n' sporrans n' claymores n' all that, were actually inventions of Scottophiles after several heavy bouts of the great Sir Walter's novels, in, ooh, about 1830 or so, the kilt itself in an earlier form only dating as far back as the late 16th century: Shakespeare's play is based upon events in the life of King Macbeth, who reigned from about 1040. But hey – why should that worry anyone, when it's the norm to see AK 47s in an opera set in mythical Crete?

Well, it worries me, mainly because the whole thing was so utterly risible – stout tenors and baritones clunking about in kilts, rotund ladies in tartan pinnies, Lady M in a turquoise blue Thatcher-suit (what on earth Hillary Clinton has done to deserve the frequent comparisons to this characterization, I cannot imagine, but I know it says a lot about most critics that they have jumped to it – and even more about the director if that was indeed his intention) – I wanted to laugh throughout, which heaven knows is a response already invited by the glorious Hamish-the-hamster-going-round-in-his-wheel music which Verdi provided for the Witches' chorus.

In the midst of all this, there was glorious orchestral playing to enjoy, with Jurowski coaxing mellifluous sounds from the strings in particular, and some admirable singing here and there – Andrzej Dobber made a game stab at the 'butcher,' even though his voice is too dry to fulfil the requirements of a true Verdian high lyric baritone, and Sylvie Valayre was an intermittently exciting 'fiend-like queen' – she at least certainly fulfilled the composer's requirement that at certain times she should 'not sing at all' – quite a daring performance. Excitement was distinctly lacking in much of the singing – whatever happened to Malcolm's great cry of 'Vittoria?' Lost, one assumes, in the vast space of the hall.

The verdict of most people I spoke to in the interval and afterwards was 'Sure am glad I didn't schlep all the way out to Glyndebourne to see this,' and that's my feeling too, since I still expect more from that house than risible productions and second rate singing. Fortunately the orchestra redeemed much, and the conductor covered himself in glory.
Melanie Eskenazi
Back to the Top
Back to the Index Page

Seen and Heard, one of the longest established live music review web sites on the Internet, publishes original reviews of recitals, concerts and opera performances from the UK and internationally. We update often, and sometimes daily, to bring you fast reviews, each of which offers a breadth of knowledge and attention to performance detail that is sometimes difficult for readers to find elsewhere.
Seen and Heard publishes interviews with musicians, musicologists and directors which feature both established artists and lesser known performers. We also feature articles on the classical music industry and we use other arts media to connect between music and culture in its widest terms.
Seen and Heard aims to present the best in new criticism from writers with a radical viewpoint and welcomes contributions from all nations. If you would like to find out more email Regional Editor Bill Kenny.
Contributors: Marc Bridle, Martin Anderson, Patrick Burnson, Frank Cadenhead, Colin Clarke, Paul Conway, Geoff Diggines, Sarah Dunlop, Evan Dickerson Melanie Eskenazi (London Editor) Robert J Farr, Abigail Frymann, Göran Forsling, Simon Hewitt-Jones, Bruce Hodges,Tim Hodgkinson, Martin Hoyle, Bernard Jacobson, Tristan Jakob-Hoff, Ben Killeen, Bill Kenny (Regional Editor), Ian Lace, John Leeman, Sue Loder,Jean Martin, Neil McGowan, Bettina Mara, Robin Mitchell-Boyask, Simon Morgan, Aline Nassif, Anne Ozorio, Ian Pace, John Phillips, Jim Pritchard, John Quinn, Peter Quantrill, Alex Russell, Paul Serotsky, Harvey Steiman, Christopher Thomas, Raymond Walker, John Warnaby, Hans-Theodor Wolhfahrt, Peter Grahame Woolf (Founder & Emeritus Editor)
Site design: Bill Kenny 2004