Donizetti, Don Pasquale: Soloists, Orquesta Nova de la sinfónica de Galicia, Coro de la sinfónica de Galicia /conductor, Marcello Panni, La Coruña, Spain, 14.9.2007 (JMI)
Production by courtesy of the Teatro Comunale di Bologna

Director: StefanoVizioli
Stage Settings : Susana Rossi Jost
Costumes: Roberta Guidi Di Bagno
Lighting: Franco Marri
Cast:

Don Pasquale: Alfonso Antoniozzi
Norina: Patrizia Ciofi
Malatesta: Fabio Maria Capitanucci
Ernesto. Celso Albelo
Un Notaro: Pablo Carballido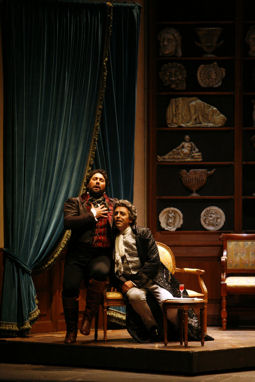 The Asociación de Amigos de la Ópera de Coruña presents a small opera festival in September every year and commemorated its 55th year this time. During the first few days of September we were offered Puccini`s Boheme with Cristina Gallardo-Domas and the season closed with this Don Pasquale.

This performance is almost an exact repeat of the production staged in January of this year in Genoa, although the overall result was much better this time. It is a very traditional production (published already as a DVD) originally from La Scala, though quite a few years ago now. The staging (Susanna Rossi Jost) shows a revolving house, allowing the action to move easily from Don Pasquale's home to the Malatestas. Everything is kitted out with conventional furnishings and the best part is unquestionably the scene with the chorus of servants in the house kitchens, full of life, movement, brilliance and imagination. Traditional and bright costumes are provided by Roberta Guido Di Bagno and good lighting by Franco Marri. Stefano Vizioli's direction was not particularly interesting in Genoa, but things have improved in Corunna, particularly due to the fact of having a new Norina -a real stage delight - and the fact that Malatesta is now more familiar with the role. Norina was always alive, amusing and proved to be an exceptional interpretation so that all eyes were on her, whenever she was on stage.

As in Genoa, Marcello Panni conducted and was also better than formerly. He offered a perfectly integrated version of the score, maintaining very light and fast tempi, helping the singers and along and controlling perfectly all the forces at his disposal. A very young and promising Orquesta Nova de la Sinfónica de Galicia responded sensitively to his direction, playing with great enthusiasm. Not everything was completely perfect but it is good to recognize the work that Maestro Panni has done with these young musicians. He acknowledge their contribution by taking them up to the stage to receive their applause along with the chorus (Coro de la sinfónica de Galicia) which also had many youngsters among its members.

Don Pasquale was Alfonso Antoniozzi, who is a very good actor but whose voice proved unfortunately inadequate most of the time, lacking brilliance and even harmonics. He was almost inaudible in his scene with the chorus which opens second act.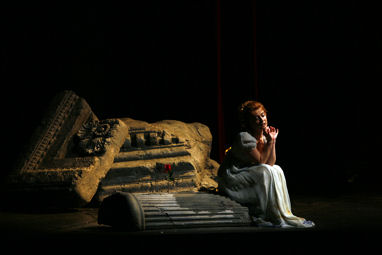 The Norina on this occasion was Patrizia Ciofi, who made an authentic demonstration of how to perform the role. This soprano cannot be is a genuine all-round performer: her voice isn't one of extraordinary quality nor the volume is exceptional, but what a great artist she is! She sang superbly, never dodging the difficulties of the role at any moment, but finishing with beautiful and very difficult variations in the final moral aria. As an actress, she was insurmountable and whether as Norina, Sofronia or Signora Cornetto, her interpretation was exceptional. She was even the most cheerful in the final cutain calls and this kind of Norina, this opera is a triumph.

The other newcomer to the production was Celso Albelo as Ernesto. Overall impressions were positive, although I believe that there are some points for improvement since although the voice is beautiful, he has a slight problem with projection. He was very good in "Sogno soave e casto", wonderful in the internal "Come e gentil la notte a mezzo april" and outstanding in the duet "Tornami a dir Che m' ami". In "Povero Ernesto" however, he had some pitch problems and showed some hesitations within his top register, although he was able to deliver the aria in a very clean and sustained way. There should be an important career ahead of him, if he keeps an eye on his repertoire and he should sort out a few small insecurities as a first priority.

Fabio Maria Capitanucci sang Malatesta. His lyric baritone, has more than enough body and beauty and he is a very good singer as well as a good actor. If he doesn't run ahead too quickly, he should have a very bright future ahead.

There were some empty seats for this performace, which was not the case in La Bohème. The audience applauded warmly for all the set pieces and at the end there was a triumphal reception for the the whole team, particularly for Ciofi, Albelo and Capitanucci, aside from Panni and his local orchestra. Happiness being contagious, even Antoniozzi was applauded.
José M. Irurzun
Back to the Top
Back to the Index Page