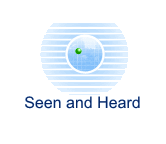 Editorial Board

London Editor:
(London UK)
Melanie Eskenazi

Regional Editor:
(UK regions and Worldwide)
Bill Kenny

Webmaster:
Bill Kenny

Music Web Webmaster:
Len Mullenger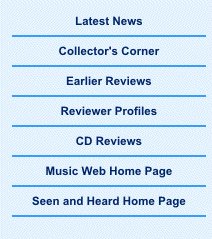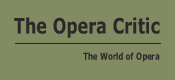 MusicWeb is a subscription-free site
Clicking Google adverts on our pages helps us keep it that way

Seen and Heard International Opera Review
Wagner, Götterdämmerung: at the Royal Opera in Stockholm, 15.9.2007 (Premiere) (GF)

Sets and Costumes: Bente Lykke Møller
Lighting: Torben Lendorph
Choreography: Kristin Kåge
Movies: Mats Bäcker and Johan Forslind
Dramaturge: Stefan Johansson
Cast:

Siegfried - Lars Cleveman
Gunther - Gabriel Suovanen
Hagen - Hans-Peter König
Alberich - Kettil Hugaas
Brünnhilde - Katarina Dalayman
Gutrune - Lena Nordin
Waltraute - Helene Ranada
First Norn - Helene Ranada
Second Norn - Marianne Eklöf
Third Norn - Annalena Persson
Woglinde - Karin Ingebäck
Wellgunde - Susann Végh
Flosshilde - Karin Lovelius

Dancers: Hervor Sjöstrand, Kristin Kåge and Elisabeth Crispin
The Royal Orchestra
The Royal Opera Chorus
Conductor: Gregor Bühl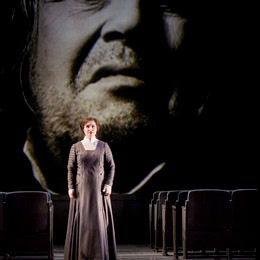 From the fairy-tale optimism of development in Das Rheingold with its colourful settings, its technical evolution and the building of Valhalla, the new Stockholm Ring des Nibelungen has step by step moved in time from Wagner's own days closer to present times and in pace with this transportation grown ever more sparse, even bleaker. In Götterdämmerung we are well into the twentieth century, around World War One and the world is mainly in black and white. The moving images of the cinema have conquered the world and essential parts of the opera take place in a movie theatre, where flashbacks are shown to remind the audience of what has gone before. The model is Fritz Lang's Nibelungen films. Even on other occasions filmed sequences – in black and white – accompany the proceedings. Thus the three Norns – dressed in black and white like waitresses - sing and act on an empty stage against a backdrop with three mime artists impersonating the Norns of bygone days. Now they see only a withered trunk of the World Ash and then their thread entangles and they can no longer foresee the future. So much else is also withering. Both Gunther and Gutrune are crippled, Gutrune even bound to her wheel-chair in the beginning and attended by two nurses. Wotan is recurrently shown in close up, grieved, mourning the world of the Gods falling in pieces. There is even interaction between the present and the past when Brünnhilde at the end throws the ring back to the Rhine and on the screen it is caught by Flosshilde. The Rhine overflows its bank and on the screen we see actual pictures filmed during the spring flood.

Götterdämmerung (or Twilight of the Gods) is of course permeated by a sense of doom but also by a hope for a new and better world and since there is little in the way of sets and props, focus is on the individual characters. Removing historical cobweb tends to clarify the conflicts and relations – a good example is the recent Amsterdam Ring, directed by Pierre Audi and available on DVD. There the orchestra is placed centre stage with the singers acting around it and sometimes very close to the audience. In that the Stockholm Ring is traditional, but even though the Royal Orchestra is half invisible in their pit, they contribute greatly to the general success. They have been impressive throughout this Ring and in Götterdämmerung, where the orchestra play an even more active part than in the preceding operas, they grow in stature to challenge even Barenboim's Bayreuth players. It was a fitting tribute to the musicians that they were granted a curtain call on their own on the premiere night. Gregor Bühl has shown increasing understanding of Wagner's scores and in Götterdämmerung he fired his forces to playing that was overwhelming in its dynamic potency.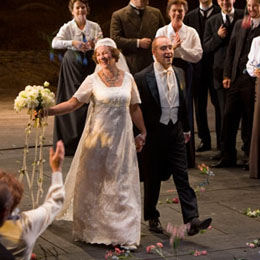 Director Staffan Valdemar Holm, besides uncovering the inner selves of the characters, has also, as in the previous operas, played on the humorous possibilities. This could be devastating with less than sensitive actors but with a cast of singers, who also have the acting in their blood, this just added a further dimension. It should also be said that for a Swedish speaking audience the surtitles were a further help to understanding. Sigrid Elmblad's interpretation, which was sung when Götterdämmerung saw its Swedish premiere exactly 100 years ago, is closer to Wagner's original, but that also implies that for today's viewers there are too many cryptic linguistic antiquities and Lasse Zilliacus' new rendering is much closer to our time while still retaining a certain solemnity, including alliteration. It is fresh and done with tongue in cheek.

During the last two years or so I have seen and heard a number of recent and not so recent Ring operas on CD and DVD and my experience is that however good the acting is and how well the orchestras play one has to be fairly indulgent towards the singing. Real Wagner singers are not too numerous, even in the great houses. Sweden, and especially the Royal Opera, has a long tradition in this field:I have lavished praise on the previous casts and several of those singers returned also in Götterdämmerung. It may sound chauvinistic but I don't think many opera houses in Europe can muster a cast of such excellence with mainly home-grown singers. There was hardly a weak link. When did one see and hear a trio of Rhine Maidens with such freshness and such well tuned ensemble singing? They were also the only representatives of the good old days. Their chequered dresses had paled a bit but they still radiated youthful innocence. The Norns were luxurious casting indeed. The experienced Marianne Eklöf was as expressive as ever and Annalena Persson amply demonstrated why she already has an international career in the Hochdramatische Fach, with ringing top notes of Nilssonian brilliance – a Brünnhilde in the making. Even more impressive was contralto Helene Ranada, trained in Sweden but having spent most of her career in Germany. She was an excellent Erda in Stuttgart's recent Siegfried (on both CD and DVD) and here she doubled as a world class Waltraute.

Lena Nordin, with a career of more than 20 years, made a vivid portrait of Gutrune, acting very convincingly in this vocally a bit ungrateful role. As her brother Gunther, Gabriel Suovanen gave a touching performance of this weak and sensitive character. Kettil Hugaas confirmed through his short appearance as Alberich that he is a leading character singer today, while Hans-Peter König's Hagen was the most formidably sung since Gottlob Frick's time – and that was 40 years ago. Visually he was more a genial landowner than the incarnation of evil, but that only made his cruel deeds the more abominable.

Lars Cleveman was the young Siegfried a year ago and he was scheduled to sing his older incarnation at some later performances but due to illness he was called to step in at the premiere with only six hours' notice. Small of stature, he created a lively, cheerful and carefree boyish Siegfried and the brutality of his murder became even more disgusting than usual. He seems to have lungs of steel and vocal cords of the same material, allowing him to produce heroically ringing high notes. His stamina is also admirable. What one could possibly miss is a more baritonal timbre, but one can't have everything and having heard so many tenors bawling and shouting their way through this role it is a remedy to hear it sung so securely and so nuanced.

On top of all this excellence Stockholm has a Brünnhilde probably without peer in the world today. Katarina Dalayman showed her credentials in a superb reading of the title role in Die Walküre a year and a half ago, after which she spent most of last year's Siegfried in her dressing-room, waiting for the final scene. Now back in the spotlight, she was deeply involved and expressed the character's contradicting feelings with lyrical sensitivity, razor-sharp vehemence and on top of that a nobility and warmth of tone that made her humanity stand out. At her curtain call she was deservedly greeted with standing ovations.

There will be several performances of this Götterdämmerung during this autumn and later this season three complete Rings will be given. This is a cycle worth any Wagnerian's money and considering the overall excellence it is only to be hoped that some record company will grab the opportunity to make it available on discs and preserve it for posterity. Swedish Radio have broadcast all the parts. Just a hint!
Göran Forsling
Pictures © Matts Bäcker
Back to the Top
Back to the Index Page

Seen and Heard, one of the longest established live music review web sites on the Internet, publishes original reviews of recitals, concerts and opera performances from the UK and internationally. We update often, and sometimes daily, to bring you fast reviews, each of which offers a breadth of knowledge and attention to performance detail that is sometimes difficult for readers to find elsewhere.
Seen and Heard publishes interviews with musicians, musicologists and directors which feature both established artists and lesser known performers. We also feature articles on the classical music industry and we use other arts media to connect between music and culture in its widest terms.
Seen and Heard aims to present the best in new criticism from writers with a radical viewpoint and welcomes contributions from all nations. If you would like to find out more email Regional Editor Bill Kenny.
Contributors: Marc Bridle, Martin Anderson, Patrick Burnson, Frank Cadenhead, Colin Clarke, Paul Conway, Geoff Diggines, Sarah Dunlop, Evan Dickerson Melanie Eskenazi (London Editor) Robert J Farr, Abigail Frymann, Göran Forsling, Simon Hewitt-Jones, Bruce Hodges,Tim Hodgkinson, Martin Hoyle, Bernard Jacobson, Tristan Jakob-Hoff, Ben Killeen, Bill Kenny (Regional Editor), Ian Lace, John Leeman, Sue Loder,Jean Martin, Neil McGowan, Bettina Mara, Robin Mitchell-Boyask, Simon Morgan, Aline Nassif, Anne Ozorio, Ian Pace, John Phillips, Jim Pritchard, John Quinn, Peter Quantrill, Alex Russell, Paul Serotsky, Harvey Steiman, Christopher Thomas, Raymond Walker, John Warnaby, Hans-Theodor Wolhfahrt, Peter Grahame Woolf (Founder & Emeritus Editor)
Site design: Bill Kenny 2004