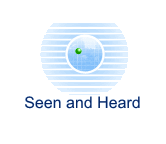 Editorial Board

London Editor:
(London UK)
Melanie Eskenazi

Regional Editor:
(UK regions and Worldwide)
Bill Kenny

Webmaster:
Bill Kenny

Music Web Webmaster:
Len Mullenger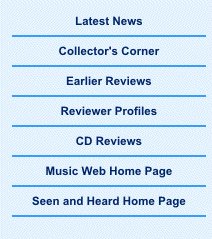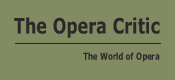 MusicWeb is a subscription-free site
Clicking Google adverts on our pages helps us keep it that way

Seen and Heard International Opera Review
Vladimir Cosma, Marius et Fanny: (World Premiere) Soloists, chorus and orchestra the Opéra de Marseille, Jacques Lacome conductor, Marseille, France. 14.9.2007 (MM)
Libretto based on Pagnol by Vladimir Cosma et al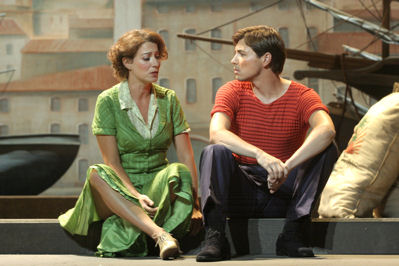 Fanny (Karen Vourc'h) and Marius (Sébastien Guéze)
French playwright/filmmaker Marcel Pagnol (1894-1974) is loved in France and unabashedly worshipped in Marseille where he was born. He has a bit of an international following as cult figure for devotees of twentieth century cinema as the maker of Manon de la Source, and is appreciated by foreigners for depicting idealized Provencal personalities like those that we actually sometimes meet.

Pagnol wrote during one of the bloodier eras of France's bloody history - two huge wars taking place on French soil, the Vietnamese and Algerian colonial wars, student riots and constitutional crises. But these cataclysmic events are not topics in the Pagnol oeuvre as Pagnol tells the little stories of decent, unimportant people taking delight in doing the decent if sometimes painful thing in the face of understandable human failings. These stories document a humanity that seems simple and pure when rendered in Pagnol's delicate art but are at the same time the ingrained passtime we all know as gossip.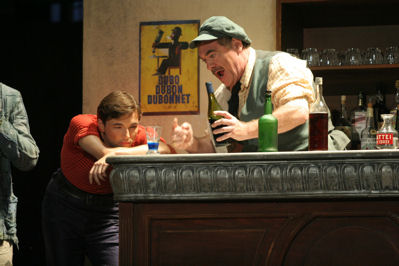 Marius and César (Jean-Philippe Lafont

Marius et Fanny

is an opera based on three plays written by Pagnol in the 1920's and 30's, Marius, César, and Fanny, and then made immediately into films. The plays have been dubbed the Marseille trilogy as they relate a love story that takes place on Marseille's Vieux Port. Besides this world premiere, the Opéra de Marseille offers two more operas this fall, Madama Butterfly and Il barbiere di Siviglia, brilliant programming, as these operas are both mirrors and polar opposites of Marius and Fanny, offering contrasts that tell us everything we need to know. When Marius who has abandoned Fanny, returns he does not take their child with him when he again departs, and the abandoned Fanny does not kill herself: in fact, she marries her much older, rich suitor and is content. A further significant contrast is that Butterfly and Barber are important operas, Marius et Fanny is not.

Romanian born, naturalized French composer Vladimir Cosma created the opera, its book based on Pagnol's words but the music is all Cosma's own. No stranger to Pagnol works, Cosma composed the music for the 1990 films made by Yves Robert of Pagnol's 1957 novels La Gloire de Mon Pere and Le Chateau de Ma Mere. Among the 200- plus film and television scores he has created so far, international cinema audiences may remember Diva (1981), one of the first French films made in the colorful, melodic new cinéma du look style in which Cosma's facile imitations of Eric Satie's Gymnopédies are integrated into his pastiche of well known opera arias.

There is a deep chasm between Pagnol and Cosma, both accomplished twentieth century artists emerging from two of its more distinct emotional and artistic moments. Pagnol is delicate and original while Cosma is bombastic and derivative, able to conjure Le Wally, Puccini, Bernstein, Rogers and Hammerstein and Tony Bennett (voir Sasha Distel) successively and simultaneously, and able as well to construe easily a series of musical numbers that resembles a real opera or better operetta. Such extravagant means are foreign to the Pagnol innocence that reassures a simple humanity within the unspoken inhumanity of its contemporary history. On the surface beguiling, Cosma's Fanny et Marius mostly fell into meaningless, clichéd musical gesture, its music better suited to amplifying wide-screen Technicolor images than simple emotions.

As nearly always at the Opéra de Marseille casting was superb, extraordinary was Marius' father César (the role created by the legendary Toulon commedien Raimu) played by bass Jean-Philippe Lafont, sympathetic was the fine baritone of Marc Barrard as the old suitor Panisse, convincing was the Marius of young tenor Sébastien Guéze (14/09/07). Soprano Karen Vourc'h seemed more comfortable playing the matronly Fanny than the girl-next-door Fanny (14/09/07). As too often in Marseille the production was of little interest, content with a sort of literal illustration that is unsatisfying to audiences now accustomed to thoughtful, sometimes even conceptual staging. The Cosma score was dutifully served up by conductor Jacques Lacome and Marseille's fine orchestra.

But this was Marseille's moment, its audience immensely appreciative of this pop-opera bow to probably its most favorite son. This obvious appreciation was contagious certainly even to those in the audience who will soon be genuinely moved by Butterfly's brilliantly heroic self sacrifice and delighted by the unbridled vocal egoism of Beaumarchais' twisted characters in Rossini's brilliant Barber.

Note that the alternate cast was Roberto Alagna as Marius and Angela Gheorghiu as Fanny. A DVD recording has been made of this performance. Bon dieu. Not to be missed!

Photographs © Christian Dresse

Michael Milenski

Back to the Top Back to the Index Page

Seen and Heard, one of the longest established live music review web sites on the Internet, publishes original reviews of recitals, concerts and opera performances from the UK and internationally. We update often, and sometimes daily, to bring you fast reviews, each of which offers a breadth of knowledge and attention to performance detail that is sometimes difficult for readers to find elsewhere.
Seen and Heard publishes interviews with musicians, musicologists and directors which feature both established artists and lesser known performers. We also feature articles on the classical music industry and we use other arts media to connect between music and culture in its widest terms.
Seen and Heard aims to present the best in new criticism from writers with a radical viewpoint and welcomes contributions from all nations. If you would like to find out more email Regional Editor Bill Kenny.
Contributors: Marc Bridle, Martin Anderson, Patrick Burnson, Frank Cadenhead, Colin Clarke, Paul Conway, Geoff Diggines, Sarah Dunlop, Evan Dickerson Melanie Eskenazi (London Editor) Robert J Farr, Abigail Frymann, Göran Forsling, Simon Hewitt-Jones, Bruce Hodges,Tim Hodgkinson, Martin Hoyle, Bernard Jacobson, Tristan Jakob-Hoff, Ben Killeen, Bill Kenny (Regional Editor), Ian Lace, John Leeman, Sue Loder,Jean Martin, Neil McGowan, Bettina Mara, Robin Mitchell-Boyask, Simon Morgan, Aline Nassif, Anne Ozorio, Ian Pace, John Phillips, Jim Pritchard, John Quinn, Peter Quantrill, Alex Russell, Paul Serotsky, Harvey Steiman, Christopher Thomas, Raymond Walker, John Warnaby, Hans-Theodor Wolhfahrt, Peter Grahame Woolf (Founder & Emeritus Editor)
Site design: Bill Kenny 2004