Rossini, La Cenerentola: (New Production Premiere) Soloists, Chorus and Orchestra of Welsh National Opera, Carlo Rizzi, conductor, Wales Millennium Centre, Cardiff, 27.9.2007 (GPu)
Production:
Conductor: Carlo Rizzi
Director: Joan Font
Designer: Joan Guillén
Lighting Designer: Albert Faura
Choreographer: Xevi Dorca
Chorus Master: Tim Rhys-Evans
Cast:
Clorinda: Joanne Boag
Tisbe: Julianne Young
Angelina (Cinderella): Marianne Pizzolato
Alidoro: Andrew Foster-Williams
Don Magnifico: Robert Poulton
Don Ramiro: Colin Lee
Dandini: Roberto de Candia
Rats: Suzanne firth, Eleanor Macdonald, Mark Daley, David Klooster, Shaun Lloyd, Wesley Pritchard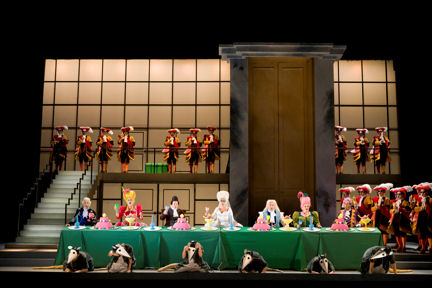 La Cenerentola - Full Cast
The French poet (and much else) Théophile Gautier wrote of Rossini's opera that "this Cenerentola by Rossini contains the happiest and most captivating music that you could ever dream of. Italian joy and vitality have combined to create the happiest and most lively musical melodies. Looking again at the music one sees how, just like playing the castanets, a sparkling line of trills and arpeggios blossoms forth. The music sings and laughs! Every minute, rays of melody shoot up like rockets and then fall back down like silver rain. In this fine opera, the motifs follow one another effortlessly in succession; the phlegmatic horn chirps like a piccolo, and the strings, the wood and brass sections in the orchestra sing as melodiously as Rubini does on stage. It is an endless flow, a bottomless treasure, as if someone, in a fit of extravagance, plunged their arms up to their elbows into a pile of precious stones and then randomly started to throw handfuls of rubies and diamonds up into the air".

On a richly enjoyable evening at the Millennium Centre, we were certainly treated to an abundance of energy and light, colour and sound. This co-production between Welsh National Opera, Houston Grand Opera, Gran Teatre del Liceu and Grand Théâtre de Genève, is directed by Joan Font. Font and his Barcelona-based company Comediants have long been associated with a carnivalesque, colourfully Mediterranean theatrical idiom – and this is, unsurprisingly, a wonderful feast for the eyes. From a double headed horse (which opened up to provide a seat) to vivid costumes in a blaze of Catalan colours; from dazzling mirrors employed with extraordinary inventiveness to magical scenic transformations, this was a triumph of theatrical design. Six exquisitely choreographed rats, initially observers of the action amongst the dirt and ashes of Angelina's fireplace, but gradually permeating all the action, moving props, helping characters change costumes, charmed the audience comprehensively. It isn't often that the set brings gasps and applause from the audience, as this one did.

Such theatrical inventiveness can, of course, come to seem excessively intrusive, can become an end in itself. But not here. The work of Font and his team of designers always felt as though it was genuinely at the service of Rossini's opera – deceptively simple, but with a libretto by Jacopo Ferretti to which Rossini clearly responded very powerfully.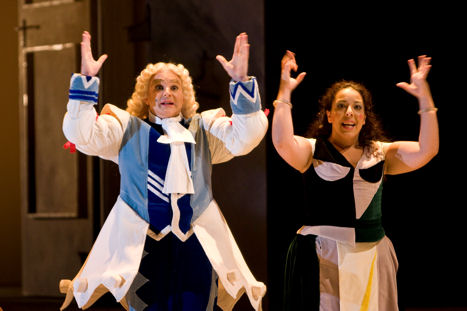 Colin Lee (Ramiro) and Marianna Pizzolato (Angelina)

This was one of those rare nights when all the operatic elements came together. Visually rich as it was, the staging never distracted from music or theme. The orchestra was on fine form, Carlo Rizzi utterly at home with this music. The contrasts of dynamics and tempo in the overture set the pattern for rhythmically supple, richly coloured work throughout the evening, and Rizzi never fails to support singers with precision and appropriate flexibility. And what a fine cast of singers he had to work with.

Marianna Pizzolato was making her British opera debut – and those who heard it surely won't forget it in a hurry. She has a lovely voice, strong throughout its range, and her familiarity with the Rossinian idiom (she has been singing at the Rossini Festival in

Pesaro since 2003) was very evident. While not perhaps especially gifted as an actress she is an impressive stage presence, able to take command of a scene, but equally able to play an assured and unexaggerated role in a well-balanced ensemble. This was impressive bel canto singing from a very promising young singer. Her rendition of 'Nacqui all'affanno…Non più mesta' was a thing of beauty and carried a real weight of emotion.

Almost as exciting – allowing for a slightly tentative beginning – was the tenor of Colin Lee. His Don Ramiro offered a fine display of just what one hopes to hear from a tenore leggiero – comfortable at high pitches, graceful phrasing, clarity of tone, capable of both gentle piani and ringing forti. And, of course, a radiant top C. Here, too, is a young singer who surely has a great future.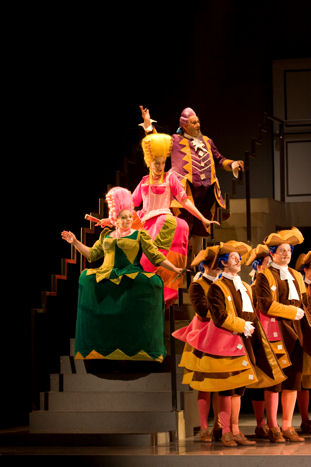 Joanne Boag (Clorinda) Julianne Young (Tisbe)
Robert Poulton (Magnifico)

The comic roles were also well handled. Robert Poulton's singing of Don Magnifico – having identified himself as the donkey of his early dream – employed a delightful bray from time to time. In most of the rapid work required of the role he was thoroughly competent and his visual and physical interpretation made him an appropriately fitting father to Clorinda and Tisbe – it was easy to believe that these grotesques of stupid vanity and misplaced pride were related to one another. Joanne Boag and Julianne Young sang and acted with energy and a strong sense of purpose, interacting well as a comic duo.

To the role of Dandini Roberto de Candia brought a wealth of stage experience and a related assurance. His parodic work as the disguised prince was particularly good, a convincing picture of a man revelling in the possibilities, both social and vocal, of his temporary transformation. Andrew Foster-Williams sang the role of Alidoro with power and dignity, rapidly convincing one of the character's special wisdom, of his superiority to the self-deception or potentially debilitating naivety which characterised the world over which he effectively presided like a kind of fairy godfather.

The standards of WNO's chorus have been so high for some time that it almost goes without saying that they too made an excellent contribution to proceedings.



La Cenerentola is a work of greater beauty and wisdom than the operatic setting of a fairy story necessarily produces. Ferretti and Rossini recognised the archetypal power of the Cinderella story, its powerful presentation of themes of pride and self-knowledge, of social class and personal transformation – and much else. The resulting work is an unusual fusion of comedy and sentiment, of absurdity and nobility. It isn't easy to produce the opera so as to do justice to both dimensions of the story, to recognise the 'seriousness' (but never the solemnity) of the opera. This production did so with real panache. When innocence and goodness were finally triumphant, when the romance pattern of Patience and Love outfacing Selfishness and Hypocrisy was realised at the work's conclusion, ending as all good romances should in a marriage, the final scene brought a tear to the eyes of even the rats. Comedy and sentiment, absurdity and moral wisdom coexisted in a moment of poignant balance, part of a visually and musically radiant conclusion.

When the work of designers and producers produces a series of visual images that so perfectly complement the distinctive idiom of Rossini's music, and when that music is sung and played with such flair and skill, then a rare production such as this is a persuasive demonstration of how Rossini's best operas can be simultaneously riotously amusing and, in their own way, profound. That "joy and vitality" of which Gaultier wrote was not only musical – it was theatrical too. Nor was it only Italian.

Glyn Pursglove

Pictures © Bill Cooper

Back to the Top Back to the Index Page