Mozart, La clemenza di Tito: Soloists; Chorus & Orchestra of English National Opera/Edward Gardner. London Coliseum, 8.6 2007 (CC)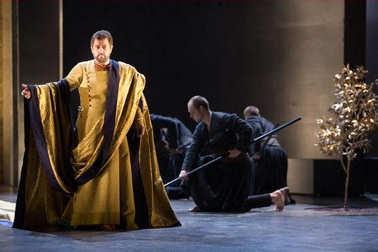 Paul Nilon as Tito
ENO's revival of Mozart's Clemenza constitutes Edward Gardner's second production as Music Director at the Coliseum. This performance was a somewhat mixed affair, with real highs balanced by long stretches of muted inspiration.
David McVicar's impressive prodution is predominantly dark, the shadowy atmospherre reflecting the nature of the story line (although somehow the audience managed to find a few laughs along the way!). There is little true light here. Instead, it seemed that what light there was existed mainly as a way into darkness rather than a contrasting force to it. Off-stage chorus was truly effective, as was the flickering lights for the flames as Rome burns in the midst of rebellion.
Clemenza is a difficult work to bring off, needing an inspirational conductor and an orchestra on top form. Neither prerequisite was filled on this occasion, however. Despite a resplendent opening to the Overture, woodwind tuning soon became obvious as suspect. The orchestra throughout the evening seemed unconvinced by the quality of the music it played. Perhaps they hankered after Zauberflöte, the opera's nearest neighbour in the Mozartian canon?!. Whatever the case, this was the ENO orchestra on just-above-autopilot. Given that this was the first night of a run, one hopes that routine will not further dull enthusiasm …
The arrival of a sole figure before the curtain prior to the performance led to the inevitable sinking feeling. The announcement was that Alice Coote had been suffering from a chest infection but would soldier on. In the event, Coote (as Sesto) stole the show – certainly, she overshadowed Paul Nilon's lacklustre Tito. Coote's voice seemed perfectly chosen. First, it worked splendidly against Emma Bell's gorgeous Vitellia in the opera's earlier stages; later, a massively assured 'Come scoglio', with full vocal range and supreme velocity intact, brought the house down, and rightly so. And even taking into account the strength of some of her fellow cast members, her contributions to Act 2 always felt like a breath of fresh air.
Emma Bell (who triumphed as a recent Violetta) is musical in the extreme. She can melt a phrase heart-breakingly, yet her voice has a core strength and her diction is impeccable. Her portrayal of Vitellia, if anything, progressed as the evening wore on, and her scene in which she wrestles with her conscience towards the end of the oepra was powerful indeed. If Sarah-Jane Davies (who incidentally will represent Wales in this year's Cardiff Singer of the World) was a slightly thin of voice Servilia, Andrew Foster-Williams (as Publio) impressed with great stage presence and solid vocal work. Indeed, it would be good to hear more of Foster-Williams.
If only Tito had not been miscast, this Clemenza would have been something of a vocal triumph. Nilon was at his best in the Act 2 scene with Sesto, but in reality he did not rise to the challenges of this great part. Dignity and gravitas were the key elements lacking, and for this opera that is nigh on fatal.
A recent Harmonia Mundi recording of this opera conducted by Jacobs and with a cast including Mark Padmore and Bernarda Fink (HMC901924-4), by the way, is the ideal way in to the elusive work that is Clemenza. There, at least, every note sounds newly-minted.
Colin Clarke
Picture © Robert Workman /ENO