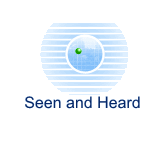 Editorial Board

London Editor:
(London UK)
Melanie Eskenazi

Regional Editor:
(UK regions and Worldwide)
Bill Kenny

Webmaster:
Bill Kenny

Music Web Webmaster:
Len Mullenger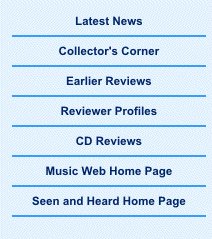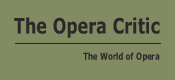 MusicWeb is a subscription-free site
Clicking Google adverts on our pages helps us keep it that way

Seen and Heard Opera Review
Debussy, Pelléas et Mélisande: Soloists; Orchestra and Chorus of the Royal Opera House, Sir Simon Rattle (conductor) Royal Opera, London 11.05.2007 (AO)
Mélisande : Angelika Kirchschlager
Pélleas : Simon Keenlyside
Golaud: Gerald Finley
Geneviève: Catherine Wyn Rogers
Arkel: Robert Lloyd
Yniold: George Longworth
Director: Stanislas Nordev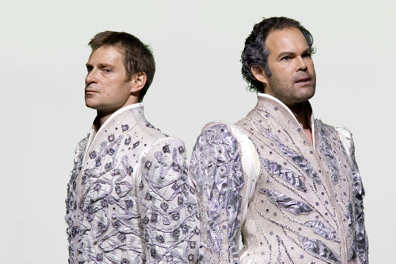 There's nothing quite like Pelléas et Mélisande. In many ways, it's a huge symphony, because so much of the action happens in the music rather than on stage. Yet it is more than a symphony because it deals specifically with a story bursting with symbolism, linking to deeper and more complex ideas. The textures and colours are intoxicating, and the dream-like ambiguity tantalises. Yet, it's precisely because there's so much in this music that interpretation is so essential. Indeed, if there's a single basic criterion for judging merit, it's how well the interpretation elucidates the work. All interpretations stem from how the soul of the work is understood, and how it's realised in performance. With like Pelléas et Mélisande, the mystery is elusive, so an unusual degree of sensitivity can come into play.

As sheer music, this was wonderful. The music seemed like a living being, its moods rapidly turning and changing. At turns it was radiant, at other moments darkly brooding. This matters because the action in the libretto unfolds slowly. The music progresses the narrative. Because it's impressionistic, it hovers on the edge of meaning as well as tonality. Simon Rattle has performed a lot more Debussy than recordings alone would suggest. His approach here shows an intuitive grasp of the composer's idiom, and of what makes it still fresh and modern. This was playing of great refinement, clearly and lucidly detailed, yet passionately felt and emotionally resonant. Indeed, it was musicianship that made this production.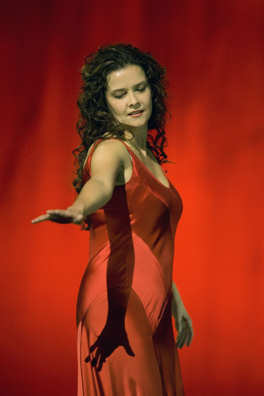 The narrative revolves around Mélisande, so this production's attempt to explore her character was brave and admirable. She's usually depicted as bland, child-like and wan, a blank against whom the other characters react. Yet, Golaud encounters her deep in the forest. What's a girl with extremely long hair doing there? Why is she so afraid that she'd rather kill herself than reveal who she is? Ancient folk myths make much of dense forests as places of hidden menace, of witchcraft and mystery. In our post-Freudian times, we use the terminology of the unconscious. Somehow Mélisande connects with the wild animal Golaud thinks he's hunted down. Is she another incarnation of Die Hexe Lorelei? Shocking as it may seem, this interpretation of Mélisande's character is therefore perfectly valid. Indeed, the culmination of the whole opera, in her death scene, suddenly becomes more pregnant (a Freudian slip on my part) with significance. It also deftly links the themes of sexuality, succession and decay that run throughout the narrative.

The staging in this production starts off very well indeed. The forest is depicted by massive, impenetrable grey blocks. Golaud's castle, in contrast, is unnaturally bright and luminous. All the household – even Geneviève – wear sparkling white uniforms. They conform, they're not wild creatures of the forest. Superficially, this might contradict the idea of the castle as a place of gloom, but again there's justification in the text, which makes much of the relentless heat, which is also oppressive. It's an important foil to the music, with its depiction of water, in the fountain, in the watering of the garden, the sea, and especially the abandoned fountain whose waters once healed the blind. At the stroke of noon, Golaud's ring falls into its depths, and Golaud falls and is wounded.

The images occur again and again in the music, so there's no missing them. The superb playing saves the production, as the staging doesn't develop meaningfully after the First Act, or pick up on other levels in the drama. For example, when Mélisande leans over the pond, Pélleas is terrified that she'll fall in herself. The music wells up (another Freudian slip) alarmingly, creating a sense of extreme tension and menace. Moreover, it highlights the short phrase in which Pelléas mentions that Golaud first found Mélisande by a spring, too. This confirms the idea that Mélisande isn't as innocent as she seems. It could have been made quite horrifying. Instead, Kirchschlager just has to bend over the edge of the stage, her short hair barely disturbed. The sense of menace evaporates. Similarly, the scene in which Mélisande leans out of the tower, letting her hair fall down, also fits the idea of Mélisande as temptress, for Freud has taught us that hair, too, is often symbolic. Admittedly, there are technical difficulties in "showing" so much hair, but it's a lost opportunity. It's ironic then, that this interpretation of Mélisande's personality, so well expressed in the text and in the music, fails to impart its full power in this rather spartan production. It's a brilliant, and very well justified concept, which makes it all the more unfortunate that it couldn't have been shown more effectively in visual terms.

It is in the final Act that the portrayal works best, because it draws together and makes logical sense of several themes. Mélisande is dying, ostensibly after childbirth. The red backcloth matches the scarlet of her dress. It is as if the whole scene were a bloodbath, another telling reference connecting hunting, to Pelléas's murder and to Golaud's injury. Instead of lying passively in bed, Kirchschlager sits, upright and tense in a chair in the front of the stage. It's a way of expressing the fact that she's chosen, once again, "not" to speak or explain herself, and seems to choose death, which she's mentioned several times in the past. Indeed, even Golaud knows that she really died long before, when he took her from the forest and killed Pelléas. That is why Debussy made such a point of the infant's silence. It doesn't even "cry" in the music. It's supposed to be impassive, like Mélisande herself, who doesn't explain and doesn't yield. As Arkel sings, "il faut qu'il vive, à sa place". What will be her relationship with Yniold, one wonders, particularly as Golaud himself thinks Pelléas and Mélisande kissed "like brother and sister". The story does not end.

The singing, needless to say with this cast, was excellent. Keenlyside is a natural stage animal, much better in roles where he can "become" character than in Lieder. That's why he was so effective in the Trisha Brown realisation of Winterreise. Because he's sung Pelléas so often, he expressed a lot more about the role than this production on its own terms would suggest. For example, he managed to convey the strange mix of naivety and sexual awakening, so important in the narrative. His voice is richer now in its lower register. Soon, he'll be a Golaud not a Pelléas. Angelika Kirchschlager's Mélisande of course had much more colour and depth than the usual "white" vocal style the role usually gets, which I rather liked, because it fitted well with the music around the character. Finley's Golaud, too, was nicely rounded, making the role far more interesting than if he were portrayed as a simple brutish oaf. Again, his characterisation fits in well with his volte-face in the last Act, where he suddenly shows self-knowledge and begs Mélisande's forgiveness. Maybe the waters of the spring symbolically cured his "blindness", even if they didn't work for Arkel. Keenlyside, Finley and Robert Lloyd, as Arkel, also make a well-balanced ensemble, and their voices work well with Kirchschlager's and Wyn Rogers'. Good casting isn't pick and mix, because it's meant to co-ordinate artistically.

Friends of mine heard this same cast with Rattle and the Berlin Philharmonic in Germany recently, (though Finley was indisposed and temporarily replaced). Good as the Royal Opera House orchestra is, it can't really outshine the Berliners at their best. It was, however, a semi-staged production, whereas the original, at Salzburg, was the full staged production we have in London. In a sense, they might have got a better deal experiencing it without the staging, because they relied on their imaginations and long-standing familiarity with the opera. On the other hand, though, even without sets and costumes, it was created around the same unusual and surprisingly valid revaluation of the roles and their relationship. Close your eyes, then, and listen: it comes through as music.
Anne Ozorio
Pictures © Royal Opera 2007
Back to the Top
Back to the Index Page

Seen and Heard, one of the longest established live music review web sites on the Internet, publishes original reviews of recitals, concerts and opera performances from the UK and internationally. We update often, and sometimes daily, to bring you fast reviews, each of which offers a breadth of knowledge and attention to performance detail that is sometimes difficult for readers to find elsewhere.
Seen and Heard publishes interviews with musicians, musicologists and directors which feature both established artists and lesser known performers. We also feature articles on the classical music industry and we use other arts media to connect between music and culture in its widest terms.
Seen and Heard aims to present the best in new criticism from writers with a radical viewpoint and welcomes contributions from all nations. If you would like to find out more email Regional Editor Bill Kenny.
Contributors: Marc Bridle, Martin Anderson, Patrick Burnson, Frank Cadenhead, Colin Clarke, Paul Conway, Geoff Diggines, Sarah Dunlop, Evan Dickerson Melanie Eskenazi (London Editor) Robert J Farr, Abigail Frymann, Göran Forsling, Simon Hewitt-Jones, Bruce Hodges,Tim Hodgkinson, Martin Hoyle, Bernard Jacobson, Tristan Jakob-Hoff, Ben Killeen, Bill Kenny (Regional Editor), Ian Lace, John Leeman, Sue Loder,Jean Martin, Neil McGowan, Bettina Mara, Robin Mitchell-Boyask, Simon Morgan, Aline Nassif, Anne Ozorio, Ian Pace, John Phillips, Jim Pritchard, John Quinn, Peter Quantrill, Alex Russell, Paul Serotsky, Harvey Steiman, Christopher Thomas, Raymond Walker, John Warnaby, Hans-Theodor Wolhfahrt, Peter Grahame Woolf (Founder & Emeritus Editor)
Site design: Bill Kenny 2004