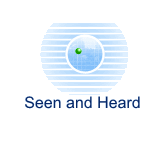 Editorial Board

London Editor:
(London UK)
Melanie Eskenazi

Regional Editor:
(UK regions and Worldwide)
Bill Kenny

Webmaster:
Bill Kenny

Music Web Webmaster:
Len Mullenger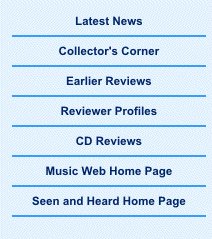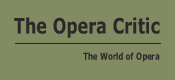 MusicWeb is a subscription-free site
Clicking Google adverts on our pages helps us keep it that way

Seen and Heard International Concert Review
Bach,Ligeti and Schumann: Christian Tetzlaff (violin) New York Philharmonic Orhestra, Alan Gilbert (conductor) Avery Fisher Hall, New York City 17.3.2007 (BH)

Bach (attrib.): Toccata and Fugue in D minor, BWV 565 (orch. by Stokowski, 1926)

Ligeti: Violin Concerto (1990; rev. 1992)

Bach: Fuga (Ricercata) from Musikalisches Opfer (Musical Offering), BWV 1079 (1747, orch. by Webern, 1934-35)

Schumann: Symphony No. 3 in E-flat major, "Rhenish," Op. 97 (1850)


So raise your hand if you have heard Stokowski's dark, meaty arrangement of Bach's Toccata and Fugue in D minor other than in Walt Disney's film, Fantasia. (I am keeping my hand down.) Stokowski represents almost a throwback in our ideas about the composer, in a time when the "historically informed performance" movement was only a gleam in Trevor Pinnock's eye. As the sprawling onstage ensemble bore out, this is Bach served up as large as possible: chewy, sinewy, indomitable. I don't hold any grudges against those who find this arrangement intolerably kitschy, but conductor Alan Gilbert – on his way to major stardom – filled the hall to bursting with an orchestral heft and dramatic sweep that could have been Verdi.

In a fairly inspired pairing, Gilbert followed the blazing Bach with the multiple intrigues of Ligeti's Violin Concerto, with Christian Tetzlaff in astounding form, at one point even suavely turning a page with his left hand while bowing with his right. Ligeti's concerto is a chamber work in which the soloist is sometimes merely the main star nestled in a galaxy. Whether in a duet with the xylophone, or perched at the top of the stave with low brass growling in a chasm far below, Tetzlaff was matched at every step by some of the most immaculate playing I've heard from the Philharmonic. Microtones abound. Of the five violins and three violas, one of each is played scordatura, retuned to create an eerily disquieting texture. The second movement ("Aria, Hoquetus, Choral") had the ache of Brahms – except that Brahms would never in a million years have conceived of using ocarinas, had they been available. (I believe his time slot narrowly missed their invention.)

In his own cadenza in the final "agitato molto," the violinist combined some of Ligeti's sparks with quiet parts of the second "Aria," and at the conclusion got a roar of approval from the audience, summoning out for an encore. His choice turned out to be quite different from the Bach "Sarabande" (from the D minor Partita) that he played on Thursday. I was much happier to witness his spellbinding account of the final movement of Bartók's Sonata for Solo Violin, showing off Tetzlaff's virtuosity while allowing Ligeti's quiet dazzler of a piece to linger in the memory.

After intermission came another Bach arrangement, the Fuga (Ricercata) but this time the vision was Webern's. Rather than piling on Stokowski's whipped cream and overwrought arpeggios, Webern gives us Bach as tiny droplets, gently falling to sizzle on the roof of a car. Webern's instrumentalists add and subtract, sometimes completing each other's sentences, and Gilbert's cues couldn't have been more delicate.

Scorecard: one for density, two for transparency. To end the evening, Gilbert evened that score, delivering a Schumann Third Symphony with Brucknerian heft (not that there aren't other ways to play this work). The opening was as richly expansive as the Webern was spare, with some horn work that one could sense was raising eyebrows all over the hall. As the details continued, with a stirring viola section in the third movement, I kept writing, "Again, the horns!" And the interesting cross-references kept coming, with the solemn fourth movement making a fleeting reference to that Webern. In the pursuit of balance, Gilbert was the evening's most elegant architect.
Bruce Hodges
Back to the Top
Back to the Index Page

Seen and Heard, one of the longest established live music review web sites on the Internet, publishes original reviews of recitals, concerts and opera performances from the UK and internationally. We update often, and sometimes daily, to bring you fast reviews, each of which offers a breadth of knowledge and attention to performance detail that is sometimes difficult for readers to find elsewhere.
Seen and Heard publishes interviews with musicians, musicologists and directors which feature both established artists and lesser known performers. We also feature articles on the classical music industry and we use other arts media to connect between music and culture in its widest terms.
Seen and Heard aims to present the best in new criticism from writers with a radical viewpoint and welcomes contributions from all nations. If you would like to find out more email Regional Editor Bill Kenny.
Contributors: Marc Bridle, Martin Anderson, Patrick Burnson, Frank Cadenhead, Colin Clarke, Paul Conway, Geoff Diggines, Sarah Dunlop, Evan Dickerson Melanie Eskenazi (London Editor) Robert J Farr, Abigail Frymann, Göran Forsling, Simon Hewitt-Jones, Bruce Hodges,Tim Hodgkinson, Martin Hoyle, Bernard Jacobson, Tristan Jakob-Hoff, Ben Killeen, Bill Kenny (Regional Editor), Ian Lace, John Leeman, Sue Loder,Jean Martin, Neil McGowan, Bettina Mara, Robin Mitchell-Boyask, Simon Morgan, Aline Nassif, Anne Ozorio, Ian Pace, John Phillips, Jim Pritchard, John Quinn, Peter Quantrill, Alex Russell, Paul Serotsky, Harvey Steiman, Christopher Thomas, Raymond Walker, John Warnaby, Hans-Theodor Wolhfahrt, Peter Grahame Woolf (Founder & Emeritus Editor)
Site design: Bill Kenny 2004