John Adams, Nixon in
China
: Greek National Opera revival of ENO Production at Athens Concert Hall GNO Orchestra – Conductor: David Parry, 28.4. 2007 (BM)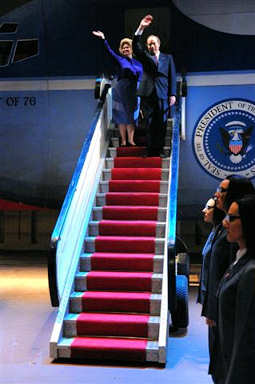 "Smoother than most, I guess", says Nixon, in reply to solicitous questions about his journey, having just wowed the audience by landing on stage in the presidential airplane, no less. I remember feeling utterly incredulous and delighted to hear a line like that sung in an opera when first seeing what is now recognized as an epic work. No wonder that when it was premiered 20 years ago, many felt it was not precisely an opera, but more of an audio-visual-textual reflection on contemporary history – or "news, news, news", to quote another of the president's lines.

By now, so much has been said and written by now about composer John Adam's first foray into opera and ENO's winning new production of last year - directed by Peter Sellars, who first pitched the idea for this work to the composer, and revived in Greece by Fred Frumberg and Michael Walling - that there is certainly no need to dwell on the basics.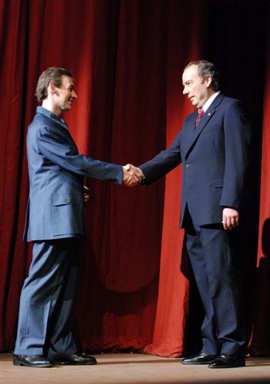 Fortunately for audiences at the Athens Concert Hall, James Maddalena himself, the man who created the title role, gave yet another definitive performance, alongside Janis Kelley's lyric Pat (a dead ringer for the real First Lady, with a little help from costumes by Dunya Ramicova, which is could hardly be said of Sally Harrison in the same role on 26/4) and Judith Howarth's suitably icy coloraturas in the part of Madame Mao. Scott Wild as Kissinger and Adrian Thompson as Mao gave perhaps slightly less memorable performances. The wisdom of having the Chairman come across as more of a buffoon than a philosopher is somewhat questionable, but this was obviously the director's call, not the performers'. And here is a score that may not be electrifying at all times, but it certainly is intricate, but although it was new to GNO's orchestra and chorus, they did an excellent job under David Parry and Nikos Vassiliou, respectively. Adrianne Lobel's sets were skillfully modeled on archival photo material of the actual historical events, as shown off in the program – its red plastic cover designed to look precisely like the famous red book of quotations by Chairman Mao.

It might be tad unkind to say that minimalism is a euphemism for repetitiveness; nonetheless, even now I would still prefer to see another performance rather than purchase the CD. What the music may lack in terms of moving melodies or harmonies, it makes up for with thrilling climaxes, especially in ensemble scenes such as the banquet at the end of Act I.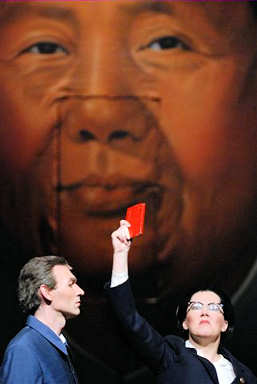 This opera's engaging, special brand of fact and fantasy is based on an ingenious libretto by Alice Goodman, which the music arguably does not do justice to at all times - nor did the Greek surtitles created for this production! Now that GNO has put a professional translator in charge of the English pages of the program, it might be time to take linguistic correctness a step further. The Greek lines must have left readers bewildered right from the outset, when they were informed that the President had stopped over in Hawaii on his way to Peking "to save time" (rather than "catch up on time" and avoid jet-lag) and that Chou En-Lai was forgoing all future travel because he had come home to China "with good intentions" (instead of "for good"). Nonetheless, despite the many mistranslations, Nixon in China was well received in Athens, presumably because Greeks have a strong sense of democracy - or of what a lack thereof can cause - as well as of the power of the media to mislead. Clearly, personal memories of the first visit of a US president to the People's Republic of China are not a prerequisite for appreciating this opera, and this attests to its potential for timelessness.

Much has been made of Chou en Lai's pensive closing lines "How much of what we did was good?", aptly delivered by the revelation of the evening, Welsh baritone Jeremy Huw Williams' Chinese Premier, sounding velvety, as well as sensitive and serious where appropriate. (And incidentally, he and Maddalena were just about the only cast members with comprehensible diction.) Still, his character's remark that "all travel is penance" is equally to the point. Not just going places can feel like penance these days: cell phones, the internet, the plethora of information and communication continuously imposed on us may have their advantages, but have not necessarily enhanced the quality of our lives, just as television and the media had not inevitably done so back in 1972.

And then there was Nixon's "the atmosphere agrees with me, wish I could send some to DC!", which sounded almost painfully apt, considering the current state of world affairs. China is practically everywhere in the US today, but has America been able to put its best foot forward in China, and are the aspects of American life that have made their way to China the ones we Americans are proud of?
Bettina Mara


Pictures
© Stefanos 2007