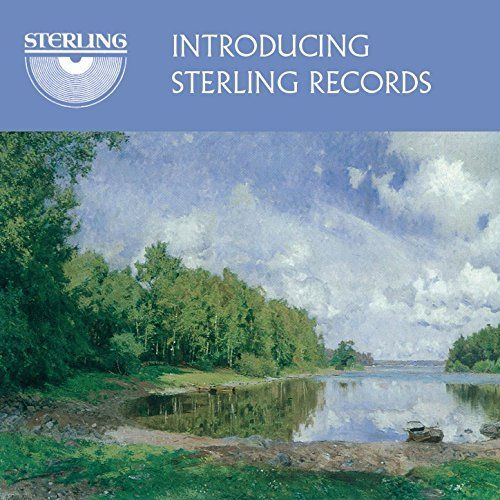 Introducing Sterling Records
If you enjoy lush, romantic orchestral repertoire then we think you will enjoy exploring the CDs from Sterling Records, the latest label to join Wyastone growing stable. Founded in 1980 Sterling Records presents rarely heard and previously unrecorded romantic orchestral works from predominantly Nordic and Northern European countries. With more than 150 titles to choose from we know you will find something to enjoy, but where do you start? This CD Sampler (CDS2012) features nineteen tracks covering Sweden, Denmark, Norway, Finland, France, Germany, Switzerland and even Britain and will help you discover and explore this fascinating label.
Click on the CD covers to reach MusicWeb International reviews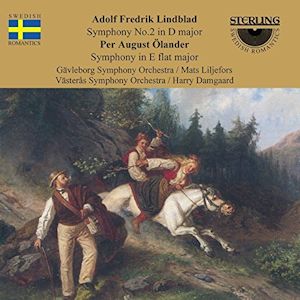 Adolf Fredrik LINDBLAD (1801-1878)
Symphony No. 2 in D major (1855) [38:16]
Per August ÖLANDER (1824-1886)
Symphony in E flat major (1868?) [27:40]
Gävleborg Symphony Orchestra/Mats Liljefors (Lindblad)
Västerås Symphony Orchestra/Harry Damgaard (Ölander)
rec. Ljusgården I Polhemssoklan, Gävle, January 1996 (Lindblad); live, Västerås Concert Hall, 8 October 1977 (Ölander)
STERLING CDS1005-2 [65:56]
Extract: Olander III Scherzo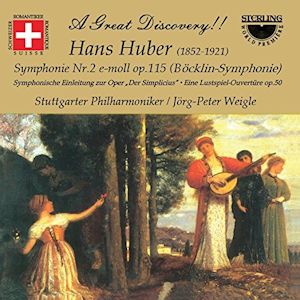 Hans HUBER (1852-1921)
Symphonies Nos. 1-8
Stuttgart Philharmonic Orchestra/Jörg-Peter Weigle
rec. 2001/02, Stuttgart, Germany DDD
recordings made with assistance from the Czeslaw Marek Foundation, Kantons Solothurn, Friends of the Stuttgart Philharmonic
STERLING CDS5000-2 [5 CDs: 335:55]
Extract:Symphony 2 iV Finale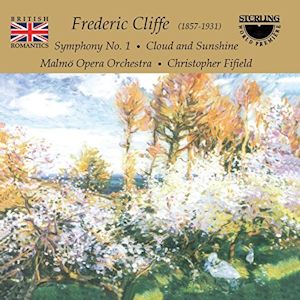 Frederic CLIFFE (1857-1931)
Symphony No. 1 in C minor (1889)
Orchestral picture: Cloud and Sunshine (1890)
Malmö Opera Orchestra/Christopher Fifield
Recorded at St Johannes Church, Malmö, Sweden, 6th-7th May 2003
STERLING CDS-1055-2 [57:54]
Extract: Symphony III Ballade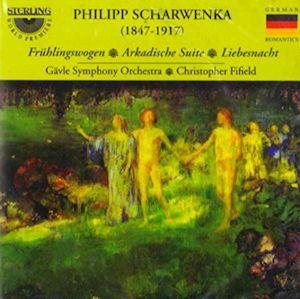 Philipp Ludwig SCHARWENKA (1847-1917)
Frühlingswogen Op.87 [23:50]
Arkadische Suite in B major Op.76 (1887) [30:49]
Liebesnacht, fantasy piece for orchestra Op.40 [19:15]
Gävle Symphony Orchestra/Christopher Fifield
rec. Gävle Concert Hall, March 2007
STERLING CDS10712 [73:54]
Extract: Frühlingswogen Torrents of Spring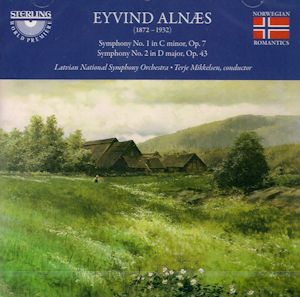 Eyvind ALNÆS (1872-1932)
Symphony No 1 in C minor, Op.7 (1899) [41.18]
Symphony No 2 in D, Op.43 (1924) [36.56]
Latvian National Symphony Orchestra/Terje Mikkelsen
rec. Reforma Baznika Riga, 31 July and 1 August 2009
STERLING CDS 1084-2 SACD [77.14]
Extract: Symphony 2 III Allegro scherzando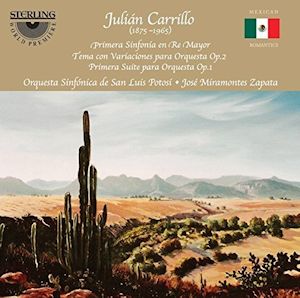 Julián CARRILLO (1875–1965)
Orchestral Works
Primera Sinfonia en Re Mayor (D major) (1901) [32:57]
Tema con Variaciones para Orquesta, Op. 2 (1899) [14:04]
Primera Suite para Orquesta, Op. 1 (1896-99) [15:33]
Orquesta Sinfónica de San Luis Potosi/José Miramontes Zapata
rec. Teatro de la Paz, San Luis Potosi, Mexico, 29, 31 Jan 2015
STERLING CDS1107-2 [62:48]
Extract: Tema con Variaciones para Orquesta
OTHER TRACKS: Bengston 'Vettern' Symphonic Poem review ; Weyse Overture review; Olsson Symphony review; Mielk Concert piece review Auber Overture La Sirene review; Stenhammar A Dream Play review; Suter Symphony review; Klughardt Suite review; Zweers Suite review; Raff Suite review; Flotow Incidental review; Gernsheim Tondichtung review; Juon Fantasy review. [TT: 72 min]
FREE CD!
MusicWeb-International has negotiated for 200 copies of this CD sampler to be available free of charge on a first come basis. To obtain your copy please email sales@wyastone.co.uk with your postal address stating that you are happy to be added to their monthly email news letter and mentioning MusicWeb International. We think of Sterling as the Scandinavian Lyrita but we would love to hear your thoughts and comments.
Email: sales@wyastone.co.uk
www.wyastone.co.uk/all-labels/sterling.html