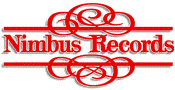 5000series
6000 (Full price) 6000 (Hermes)
1000,2000 series (incl Boxed Sets)
7000 series (mid-price and Prima Voce)
8000 (Grand Piano)
9000 (DVDs)
Red Priest Retrospective Cameo Classics Atoll
Payments is made to MusicWeb International using PayPal. The disc will be posted direct from Nimbus in a couple of days.
NOTE: Prices may be higher than those indicated on reviews due to subsequent Price and Tax increases. Prices correct as of Junw 2016
Return to MusicWeb International




[Continental Record Distribution]
CRD was founded in 1965 by Graham Pauncefort as an import service from Europe and America bringing in LPs that were not ever or not yet distributed in the UK by the majors. Some of it was parallel import and some of it was rare and important recordings that the majors never showed any interest in. As the company grew, it was a logical step for CRD to start its own classical catalogue. The company's first recordings were released in 1973. Simon Lawman, who had studied at the Royal Academy of Music, joined the company in 1970, was appointed Artistic Director in 1973 and was responsible for all recordings until his untimely death in 1986.
The distribution and recording activities were split into separate companies in 1974. The distribution company passed out of the hands of the principals in 1978 when it was taken over by a European-based investment company.
In 2016 Nimbus at Wyastone took over the manufacture and distribution of the CRD catalogue which MusicWeb is able to offer. There are nearly 200 titles in all.
The Full catalogue and ordering page is here
PRICING
The standard CD is offered at £10 post-free World-wide e.g.
Some 2CD sets are offered at £11 post free World-wide e.g.
The regular 2CD set price is £12 post free world-wide e.g.
Some of the Special Offers
The Full catalogue and ordering page is here