A Current Alfred Hollins Discography
The current catalogue of Hollins recorded music is fairly representative. However there are a number of obvious gaps. For example there is no choral piece or song with piano accompaniment. Alfred Hollins is never going to generate a huge following, even amongst organists he is often regarded as being 'old-fashioned.' Yet it seems that recitalists are prepared to give his music a chance.
In the list below we find Hollins work beside the 'greats'. And this is as it should be. Hollins broke no new ground but what he composed was competent and interesting.
His music deserves to be heard.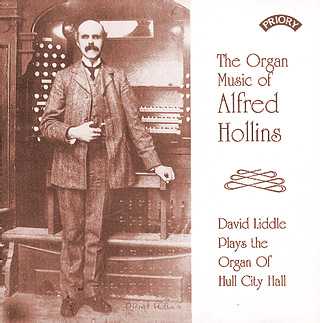 Priory PRCD 398
David Liddle 'The Organ Music of Alfred Hollins'
Allegretto grazioso
Andante in D
Berceuse
Concert Overture No 2 in C minor
Concert Toccata in Bb
Grand Choeur No 1 in g minor
Grand Choeur No 2 in C
Intermezzo in Db
A Song of Sunshine
Spring Song
Theme with Seven Variations & Fugue
A Trumpet Minuet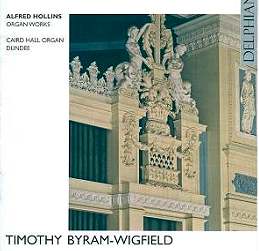 Delphian DCD34044

Timothy Byram-Wigfield -Alfred Hollins Organ Works

A Concert Overture in C major
Benediction Nuptiale
A Trumpet Minuet
Allegretto grazioso
Concert Overture in C minor
Evening Rest
A Concert Overture in F minor
Andante in D
A Song of Sunshine
Maytime Gavotte
Theme with Variations and Fugue


RECORDED WORKS ON COMPILATION CDs

Christmas Cradle Song

Organ Music for the Christmas Season

Herald HAVP225

Roger Judd at the organ of St George's Windsor Chapel.

[with works by Bach, Buxtehude, Ireland, Messiaen etc.]

Christmas Angels

Griffin 3052

Christopher Hughes on the organ of Lincoln Cathedral
[with works by Brahms, Bach, Gauntlett etc.]


Concert Overture in C minor

The Organ at York Minster

York Ambisonic YORKMC 791 Cassette Tape

John Scott-Whitley, organ

[with works by Smart, Bairstow, Peeters, Vaughan Williams etc. also Francis Jackson as recitalist]

Merlin Classics MER98060CD

Nigel Kerry 1998

[with works by Elgar, Saint-Saens, Whitlock etc]

Virtuoso Organ Works

Guild GMCD 7144

J. Filsell, organ

[with works by Widor, Bach, Vierne etc.]

Organ Classics

HMV Classics HMV5 72165-2

Wayne Marshall, organ

[with works by Dupre, Gigout, Widor etc. ]

Concert Overture in C major

Grand Organ Gala

Pro Organo CD7167

Thomas Heywood on the organ of St. Joseph's Cathedral, Buffalo New York

[with works by Brahms, Guilmant, Heywood etc.]

Great European Organs No. 71

Priory PRCD 858

John Kitchen, organ of the Usher Hall, Edinburgh

[with works by Tournemire, Nagel, Reger, Bairstow, Dalby and Vierne]

A Malvern Mixture

REGCD 233

Andrew Wilson on the organ of Malvern Priory

[with works by Whitlock, Brewer, Elgar, Wilson et al]

Concert Overture No 2 in C minor

Guild GMCD 7149

Derek Liddle plays Hollins, Widor, Wood & Liddle

Derek Liddle, organ

British Organ music from Bath Abbey

Priory PRCD 335

Peter King, organ.

[with works by Whitlock, Bridge, Grainger, Ireland etc.]

English Cathedral Series Volume 7

Regent REGCD175

David Dunnet on the Organ at Norwich Cathedral

[with works by Cook, Darke, Bairstow, Harris, Statham, Bowen, Howells etc.]

Concert Overture No 3 in F minor

The Organs of Edinburgh

Priory PRCD 700

John Kitchen, Michael Harris, Peter Backhouse & Timothy Byram Wigfield, various organs.

[with works by Bach, Buxtehude, Bridge, Leighton etc.]

Grand Choeur No.2 in G minor

The Aeolian-Skinner Sound

Raven Recordings 710

Lorenz Maycher on the organ of Trinity Episcopal Church, Bethlehem, Pennsylvania.

[with works by Frost, Reger, Dupre, Widor etc.]

Intermezzo in Db

British Concert Organists of the 1920's

Amphion AMPPHICD133

R. Goss-Custard, organ.

[with works by Wesley, Elgar, Ireland etc.]

British Organ music from Bath Abbey

Priory PRCD 335

Peter King, organ.

[with works by Whitlock, Bridge, Grainger, Ireland etc.]

Popular Organ Music

Priory PRCD610

Liesbeth Kurpershoek played on the organ of St Mary's Anglican Cathedral Johannesburg.

[with works by Durufle, Cocker etc]

Maytime Gavotte

Fanfares to Fancies

Griffin GCCD 4006

Martin Schellenberg on the organ of Wimborne Minster

[with works by Dubois, Liszt, Land etc.]

A Song of Sunshine

The Rieger Organ at St Giles' Edinburgh

York Ambisonic YORKCD 172

Michael Harris. Organ.

[with works by Franck, Vierne, Langlais etc.]

Ethelbert Nevin et al

Pro Organ CD7042

Fred. Hohman played on the organ of United Methodist Temple, Kansas City

[with works by Nevin, Parker, Shelley etc.]

Flourish for an Organ

Herald HAVP273

Roger Judd on the organ of St George's Chapel, Windsor

[with works by Harris, Lemare, Bridge, Stanford, etc.]

Coventry – English Cathedral Series Volume 11

Regent REGCD199

Rupert Jeffcoat, organ.

[with works by Holst, Leighton, Festing Bairstow, etc]

The Organ of St. Mary's Cathedral, Edinburgh

Herald Records 169

Timothy Byram-Wigfield, organ
[with works by Bach, Buxtehude, Widor etc.]




Spring Song

Organ Music from New Zealand

Ribbonwood RIBB RCD1005

J. Wells, organ.

[with works by Lilburn, Grainger, Griffiths et al]

Bach, Brahms/Schumann etc.

Hera HAVPCD204

R. Judd, organ.

[with by Bach, Brewer, Harris, Whitlock, Widor etc.]

Triumphal March

Grand Organ of Sydney Town Hall

Motette CD12591

William Guggenmos, organ

[with works by Huber, Rawsthorne, Yon, Sowerby, Vierne etc.]

The Usher Hall Organ

Delphian DCD34022

John Kitchen, organ

[with works by Elgar, Handel, Liszt, etc.]

A Trumpet Minuet

Great postludes- John Scott plays Loretto Chapel Organ

Priory PRCD345

John Scott, organ

[with works by Leighton, Stanley, Vierne etc.]

Pomp & Circumstance

Abc Classics 8770003

David Drury on the organ of The Town Hall, Sydney, Australia

[with works by Elgar, Bach, Whitlock, Vierne etc.]

Organ fireworks No. 6

Hyperion CDA66778

Christopher Herrick on the organ of Wellington Town Hall, New Zealand.

[with works by Elgar, Cocker, Sumison, Lang etc.]

Voluntaries & Interludes

Oxford OXCD72

G. Stewart on the organ of Huddersfield Town Hall

[with works by Whitlock, Bach, Lang etc.]

Langham Place Fantasia

Priory PRCD817

Gerald Brooks on the organ of All Soul's Lanham Place.

[with works by Ives, Bowen, Martin, Bliss, Tredinnick, Coates etc.]

A Celebration of Organ Music from Hull City Hall

Amphion PHICD196

Roger Fisher, organ.

[with works by Jackson, Black, Ireland, etc.]

Amphion PHI CD 177: The Land of the Mountain and the Flood
Roger Fisher - organ Reid Memorial Church Edinburgh
Alfred Hollins (1865-1942)
[1] Concert Overture in C minor

Ó John France Updated 28th June 2007