---
| | | |
| --- | --- | --- |
| George GERSHWIN Porgy & Bess Lawrence Winters (Porgy); Camilla Williams (Bess); Inez Matthews (Serena); Warren Coleman (Crown); Avon Long (Sportin' Life); J. Rosamond Johnson Chorus; Orchestra Conducted by Lehman Engel | | |
| SONY Classical (Masterworks Heritage) 2CDs MH2K 63322 [129:45] | | |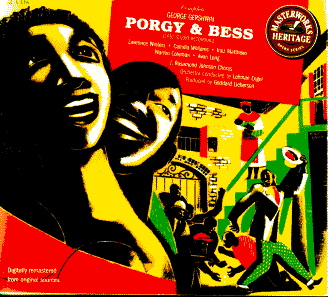 For the record Porgy and Bess was filmed by Samuel Goldwyn in 1959. The film starred Sidney Poitier as Porgy, Dorothy Dandridge as Bess and Sammy Davis Jnr as Sportin' Life. It was a disaster. By employing playwright N. Richard Nash to write a screenplay in place of Heyward's original libretto, Goldwyn turned the folk opera into a Hollywood musical a fact which Otto Preminger's ponderous self-important direction underlined. "It lumbers across the screen almost entirely void of spontaneity, lightness or charm," commented musical film and theatre historian, Miles Krueger. Only Brock Peters as Crown and Sammy Davis Jr shone in the uninspired cast. Ironically, André Previn won an Oscar for "arranging" Gershwin's score. The Gershwin and Heyward estates blocked any further screenings in theatres or television after the film's first theatrical release.
Clearly there is room for a new film of Porgy and Bess - perhaps a non-commercially but artistically-inspired producer might one day tackle this marvellous folk opera?
This present reissue was the first recording of Gershwin's opera, first released in 1951. The opera had been first performed only sixteen years earlier in 1935 and, indeed, some of the singers had been in the original stage company so they were able to bring to this recording the true traditions of this masterpiece. Larry Winters (Porgy) and Camilla Williams (Bess) were recruited from the New York City Centre Opera and are first class actors/singers so too is Avon Long outstanding as the charming yet slippery-as-a-snake Sportin' Life. The contract orchestra is splendid too with no less than seven concert masters within the ranks of its first violins. Sony have done a marvellous job in mastering this historic mono recording using 20-bit technology to produce first class realistic sound with plenty of presence.
For those who are new to this wonderful, exuberant and touching work, they will find it very approachable and brimming with memorable melodies. Who could forget the lovely "Summertime" or "Bess, You is My Woman Now", "I Got Plenty o' Nuttin'", or "It Ain't Necessarily So"? There are so many highlights - Serena's poignant aria, "My Man's Gone Now", the Buzzard Song that anticipates so much disaster, the joyous "Oh, I Can't Sit Down", Sportin' Life's seductive "There's a Boat That's Leavin' Soon for New York" and Porgy's life-affirming final aria "Oh, Lord, I'm on My Way."
A treasure .

Ian Lace
Discs on these pages are offered for sale via iMVS. American viewers might prefer to use this link to CDNOW. Please support this web-site
---
Return to Gershwin front page
---