---
| | | |
| --- | --- | --- |
| George GERSHWIN 'The Very Best of George Gershwin' 28 Gershwin Greats Various artists Decca 2CD 460 002-2 [140:35] | | |
| | | |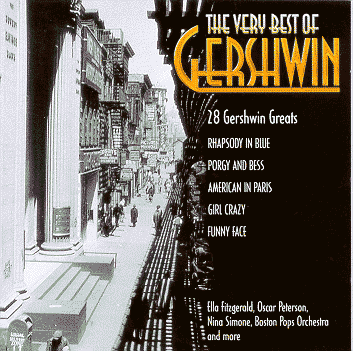 The title of this compilation is clearly over-stated because the selections are from one recording company - Polygram so it is worth bearing in mind that there are equally good if not better versions available of the items in this compilation. Nevertheless, the quality of every one of the 28 selections is at the least very good, and they have the caché of being included in Greenberg's selected discography so they do form an excellent introduction to the work of Gershwin.
There is no question about the worthiness of the first CD which is devoted to the songs - many of them in classical renderings. Consider the artist line-up: Oscar Peterson playing "Strike Up the Band"; Ella Fitzgerald and Louis Armstrong with "Summertime"; Sarah Vaughan in "The Man I Love"; Fred Astaire singing "Funny Face" and Audrey Hepburn intoning "How Long Has This Been Going On?" These are just five of 17 fabulous tracks.
The second CD is devoted to orchestral music - and there are some are tantalisingly incomplete items: An American in Paris, the Second Rhapsody, Cuban Overture and the Piano Concerto in F. The compilation opens with a gutsy, vibrant Rhapsody in Blue with Ivan Davies and the Cleveland Orchestra conducted by Lorin Maazel (who also conducts An American in Paris with the same orchestra). Arthur Fiedler conducts the Boston Pops Orchestra in a Suite from Girl Crazy, the Funny Face and Oh Kay Overtures and the Second Rhapsody. Frank Chacksfield and his orchestra play an arrangement by Roland Shaw of a Suite from Porgy and Bess (but it is not nearly so effective as Richard Rodney Bennett's Symphonic Portrait). As stated above the quality is never less than very good.

Ian Lace
---
Return to Gershwin front page
---