---
George GERSHWIN By George - The Ultimate Birthday Tribute George GERSHWIN Artists include: Peter Donohoe, Martin Roscoe, Richard Rodney Bennett and Andrew Litton (pianists); Ruthie Henshall (vocalist); The Royal Philharmonic Orchestra conducted by Andrew Litton and Henry Lewis; The Picadilly Concert Orchestra conducted by Rony Weiss. 2 CDS CARLTON CLASSICS 30368 01297 [145:53]

Album includes: Rhapsody in Blue (Jazz version and version for two pianos); Piano Concerto in F (2nd movement only); Cuban Overture; An American in Paris; Piano transcriptions from The Gershwin Songbook for one and two pianos and vocal; Porgy and Bess (two piano transcription of Fantasy)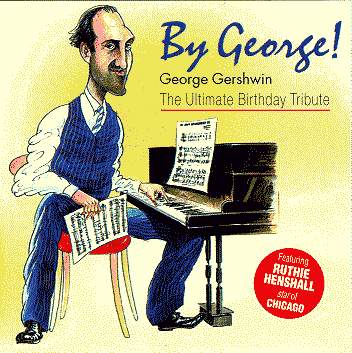 It has to be said, at the outset, of this collection (mostly of reissues), although in an attractive 2CD package and at an equally attractive bargain price, that it enters a highly competitive market with many outstanding alternative versions of many of these works from conductors and artists such as André Previn, Michael Tilson Thomas, Leonard Bernstein, Sarah Vaughan, Ella Fitzgerald and Earl Wild (see Gramophone Good CD Guide for top recommendations). Nevertheless, there is much to enjoy here.
The first CD opens with a gutsy, vibrant authentic period-sounding, jazz version of Rhapsody in Blue from the Royal Philharmonic Orchestra conducted with commendable panache and versatility from the piano by Andrew Litton (but why was he not credited as the pianist in the CD booklet?) We then have a tantalising glimpse only of the Piano Concerto in F with just the second moody-bluesy movement (the cue timing published is way out by the way) nicely realised by Janis Vakarelis with the RPO this time conducted by Henry Lewis who also conducts the same orchestra in An American in Paris which has plenty of character and atmosphere and is appropriately, by turns, tender, slinky and exuberant. The least persuasive track on the whole album is the Cuban Overture dourly played by The Budapest Symphony Orchestra, while the most attractive tracks on CD1 are the five devoted to Andrew Litton (again conducting from the piano) and the RPO playing very beguilingly, numbers from The Gershwin Songbook.
The second CD is dominated by two-piano versions of Rhapsody in Blue and the Porgy and Bess Fantasia played by Peter Donohoe and Martin Roscoe with plenty of spirit and sensitivity but for some perhaps, with a shade too much elegance; occasionally I would like to have heard a little more raw zip. The duo are totally in tune with each other, however, and their readings are nicely shaded and cleanly articulate with nicely judged and expressive pauses. Amazingly, at some points their playing deceives the ear so that you get the distinct impression that another instrument has crept in to back them up. The three Preludes - jazz inspired but in quieter mood, are played thoughtfully by Alicia Zizzo who also gives us the seldom heard Melody No.32 'Irish Waltz'. Richard Rodney Bennett plays a brilliant idiosyncratic "Jazzbo Brown Blues" from Porgy and Bess. Ruthie Henshall, the star of Chicago,gives smokey-voiced yet rather simpering renditions of "Summertime", "Oh, Lady be Good!" and "Someone to Watch Over Me". Summarising, a set worth considering especially at the price.

Ian Lace
---
Return to Gershwin front page
---